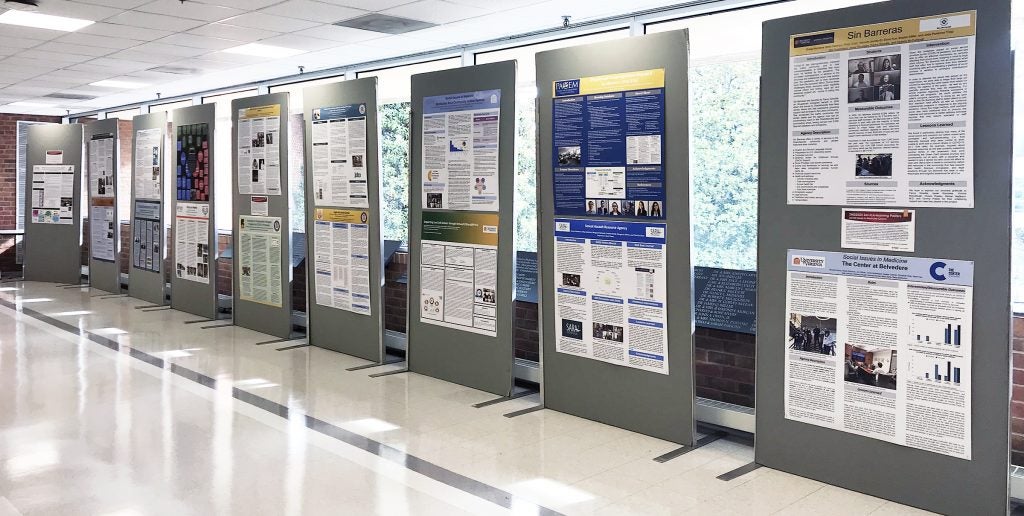 Since 2006, the Social Issues in Medicine Course (SIM) has been a required course in the School of Medicine for all first-year medical students, informing them on the social determinants of health.
An important pillar of the course is to foster a humanistic approach to medicine and an ethic of service in our budding physicians. To accomplish this, content sessions by expert physicians and community leaders, self-reflection activities, and experiential hands-on learning on health disparities are provided.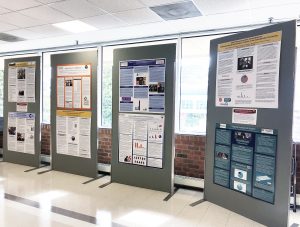 During their first year, the students are placed in small groups at a community health and human services agency or school for a service-learning experience that is project-based with measurable outcomes. Collectively, they worked at 23 sites, logging a combined total of more than 4,200 hours. Over the past 15 years, SIM has provided more than 80,000 hours of community service learning.
Every year, the first-year students create posters to illustrate and reflect their group's service-learning. These posters showcase the amazing work of our present second-year students (SMD24) and community partners.
The posters are on display outside of the Claude Moore Health Sciences Library through June 11, after which they will be moved to the hallway outside of the Primary Care Center.
About the Experience, in Their Own Words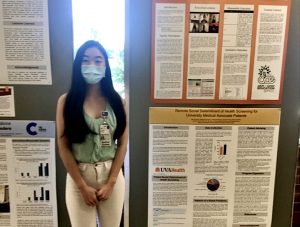 Angela Wang, SMD24, University Medical Associates
"During the last year, my medical student team conducted Social Determinant of Health screening for patients at the UMA clinic. Looking back, I am amazed at how many patients whose needs we were able to identify and for whom we were able to provide resources. However, I am also reminded of how many patients might have fallen through the cracks without a group of people specifically dedicating time and energy to initiating these conversations. In the future, I plan use what I have learned this year by continuing to ask these key questions so I can take in account my patients' unique circumstances when providing them solutions for their health."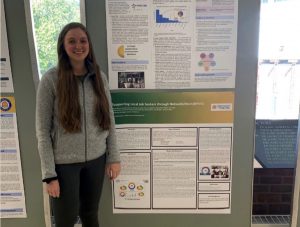 Emily Fronk, SMD24, Monticello Area Community Action Agency
"My SIM experience with MACAA highlighted how important it is for physicians to have a presence in the communities that they serve. By truly understanding the cultural and socioeconomic factors at play, we, as future physicians, will be able to more readily adapt care plans and advocate for a variety of patient groups. In doing so, we will be able to positively impact health behaviors at a system-wide level."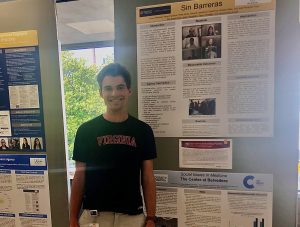 Brian Florenzo, SMD24, Sin Barreras
Working with Sin Barreras has been a very rewarding experience in spite of all the unique challenges that came with this year. Being able to virtually connect with members of the community, particularly the underserved, and assist them in a meaningful way is truly priceless. This is work I plan on continuing into my second year of medical school."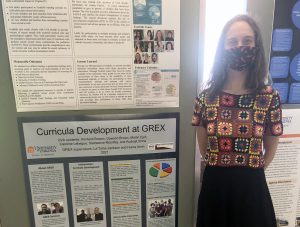 Caroline Lebegue, SMD24 and generalist scholar, Great Expectations
"My work developing a life-skills curriculum for young people aging out of foster care has helped me think about how I can connect my patients to educational and social resources to help them thrive. I am inspired by the tremendous diligence and compassion that my colleagues at GREX pour into their work with their students, and I want to embody this with my patients."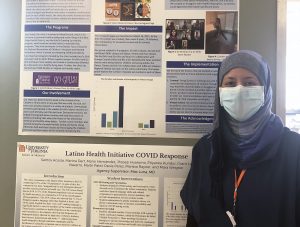 Misky Sharif, SMD24, Go Girls!, UVA Children's Fitness Clinic
"Volunteering with the Go Girls! Program and the UVA Children's Fitness Clinic has been one of the highlights of my first year. As much as I worked to teach the girls about healthy eating and active living, they taught me about positivity, perspective, and patience. I was so grateful to help create a safe space where the girls could feel empowered to ask questions while also having fun."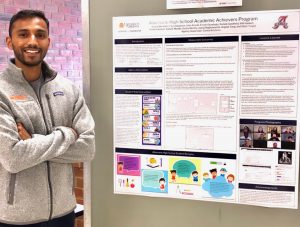 Sunny Murthy, SMD24, Albemarle High School
"Our service-learning experience allowed us to be immersed in the Charlottesville community by mentoring local ESL high-school students. From creating academic plans of when to take the SAT to tutoring students in algebra, my group worked in a purpose-driven manner to provide a meaningful impact on our students. Our only hope is that the students were as inspired by us as we were by them."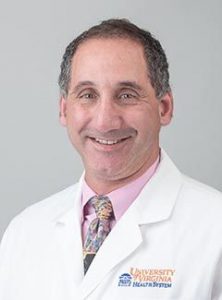 Mo Nadkarni, MD, Director, Social Issues in Medicine
"The pandemic year provided extra challenges to our students' community service-learning placements, but I'm so pleased we were able to have students collaborate with our community agencies to provide over 4,200 hours of service to improve outcomes for vulnerable populations in our local community."
The students first unveiled their group posters at the social issues in medicine community poster session, held via Zoom last month. To see more, check out the slideshow that ran during the poster session. (Download the file to hear the audio.)
Above (click to enlarge): Posters illustrating service projects performed in collaboration with Habitat for Humanity, Horses as Healers, The Jefferson Area Board for Aging, Legal Aid Justice Center, Hospice of the Piedmont, International Rescue Committee, UVA Primary Care Clinic Family Medicine, Virginia Institute of Autism, People and Congregations Engaged in Ministry (PACEM), Sexual Assault Resource Agency (SARA), UVA Children's Fitness Clinic, Latino Health Initiative, Alzheimer's Association, and Computers4Kids.
R.J. Canterbury, MD, MS, DLFAPA
Wilford W. Spradlin Professor
Senior Associate Dean for Education