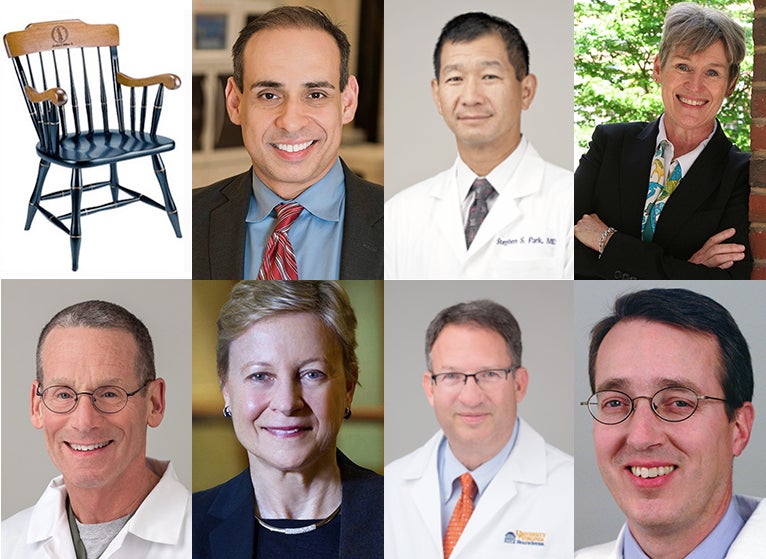 With the arrival of several new chairs this year — Dr. Park (Otolaryngology), Dr. Saavedra (Dermatology), Dr. Zeiger (Surgery), Dr. Gampper (Plastic and Maxillofacial Surgery), Dr. Hoard (Dentistry), Dr. Goodkin (Neurology) and myself (interim in Family Medicine) — the Dean's Office has implemented a new onboarding process.
Each chair meets regularly with Dean Wilkes and me during their first three months. These meetings are essential in orienting chairs to their new role and the institution itself. They also provide an opportunity for regular check-ins and for us to develop a strong partnership with these new leaders. We offer advice on strategies for success and point out pitfalls to avoid, and connect the new chair with stakeholders within the Health System and across Grounds.
We also hold three monthly, half-day sessions for the new chairs and their administrators with focused topics such as clinical affairs, the education and research missions, finances and budgeting, promotion and tenure, faculty development, and HR-related items (recruitment, hiring, annual reviews, employee relations).
Why Standardize the Onboarding for Chairs?
We're doing this for two reasons. The first is that we want the chairs to have a formal path to connect early with colleagues and to develop relationships with those with whom they'll be working as department chairs. This onboarding fosters that network creation. The second is that departmental leadership is a demanding role essential to the success of the medical school. We want to offer the new chairs quick access to the information they need to get acclimated to their new role. "What do I need to know about the department's finances, or the physical environment, or my responsibilities or …?" We help chairs answer those questions before they become issues.
A better-prepared chair — one who understands their responsibilities and establishes a strong, professional network within the Health System — will be able to better support the development and advancement of faculty as well as lead the department to advance the education, clinical, and research missions.
Thank you to Troy Buer, PhD, and Ashley Ayers who were crucial in launching this initiative.
For more information on department chair leadership, visit the Faculty Affairs and Development site.
Susan M. Pollart, MD, MS
Ruth E. Murdaugh Professor and Chair (interim) of Family Medicine
Senior Associate Dean for Faculty Affairs and Faculty Development
Filed Under: Faculty, Operations