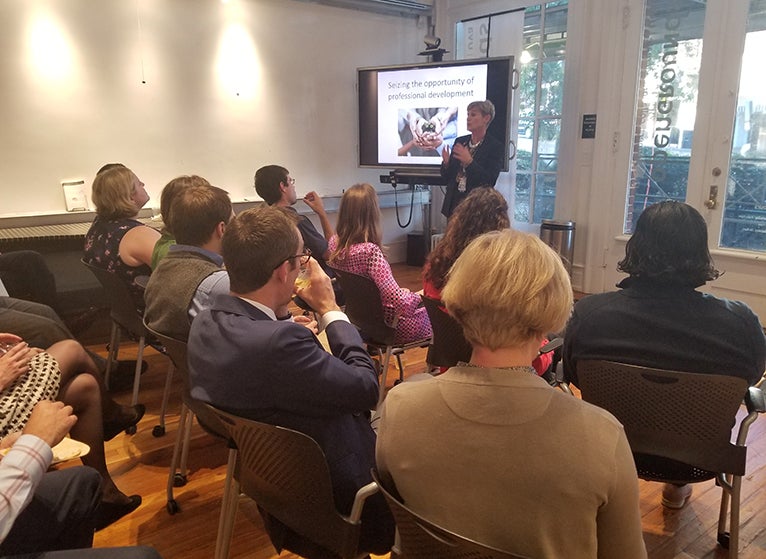 The Junior Faculty Development Program (JFDP) is off and running again! In case you're not familiar with the program, it launched in the fall of 2016 and provides networking, social opportunities, and peer mentoring among colleagues who are at a similar stage in their career. It promotes the development and advancement of junior faculty through seminars and mentored scholarly projects, and facilitates mentoring relationships between senior and junior faculty.
This year's group, composed of 17 participants from 9 clinical departments, meets every other week to discuss a broad range of topics needed for career success in academic medicine. These topics cover a range of areas, including education, research, leadership, communication, and publication. Recent examples are:
Applying a scholarly approach to the work you do with learners
Designing a Research or Quality Project
Professional Decision Making and the Professional Development Plan
Grant Writing & the Specific Aims Page
Promotion and Tenure
Social Media and Reputation Management
Writing for Publication and Scholarly Dissemination
While the current cohort does not represent every department, I want to stress that this program is open to all clinical and basic science faculty.
Each participant in the JFDP works on a scholarly project over the course of the program and has access to a mentor who will answer questions, provide resources, and assist in their growth. This year's projects cover a wide range of topics. Here is a sample of efforts underway by our junior faculty:
"Mechanistic evaluation of biointegration of acellular dermal matrix products"
"Identification of low-risk patients with mild complicated brain injury"
"Identifying and maximizing resident learning style"
"The effects of transition from a specialty-based primary to consultative hospital service: Impact on patients, caregivers, and medical providers"
"The perioperative surgical home: Taking the third-year medical student clerkship beyond the operating room"
"Improving access to kidney transplant for Hispanic minorities in the state of Virginia"
The JFDP started in October and runs until next April, with the final two meetings focusing on the faculty project presentations, where participants will share project outcomes and their progress to date. I am particularly looking forward to these sessions.
If you're interested in the JFDP (or know someone who is), the call for applications for fall 2018 will go out in the spring. Keep an eye on your email and this space for updates.
Thank you to the departmental mentors for helping develop our junior faculty and to Troy Buer, PhD; Ashley Ayers; Jennifer Aminuddin; and Alice Keys for providing logistical and operational support. The program would not be successful without their hard work.
Susan M. Pollart, MD, MS
Ruth E. Murdaugh Professor and Chair (interim) of Family Medicine
Senior Associate Dean for Faculty Affairs and Faculty Development