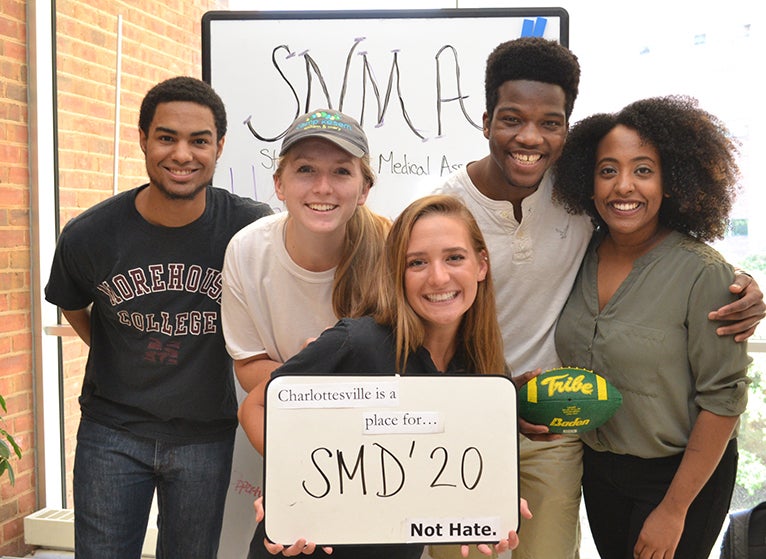 In response to recent events in the community, our students in the UVA chapter of the Student National Medical Association (SNMA) organized "A Response of Unity to a Demonstration of Intolerance" in the Claude Moore Health Sciences Library — spearheaded by Marta Getachew, a 1st-year medical student.
Student volunteers held whiteboards that said, "Charlottesville is a place for _____, not hate." Faculty, staff, and students were encouraged to fill in blank space with what the Charlottesville and UVA community means to them.
In a letter to the School of Medicine, Jewel Llamas, 4th-year medical student and the new president of UVA's chapter of SNMA, wrote, "In such a time of discord and divergence among so many groups in our nation, we hope to bring peace of mind to the people who may need it by showing that the ideologies of the people involved in the Lee Park demonstration are believed by a minority of people within our community, not the majority."
Thank you to our students for creating such memorable moments and an atmosphere of unity, respect, and understanding. I could not be prouder of them. It was a well-received event supported by leadership, staff, and faculty from across the Health System. Hundreds of photos were taken over three days. Below is a sampling of the wonderful messages shared and wonderful people who participated.
R.J. Canterbury, MD
Senior Associate Dean for Education
(Click photos to enlarge.)
Filed Under: Education