Like many great programs at the School of Medicine, it started with the students.
A few years ago, three medical students expressed interest in "design thinking." Design thinking is a creative problem-solving tool, a systematic way of looking at challenges, a mindset that teaches how to ask the right questions, to tackle the real problem. This is often used to produce the products and experiences we use every day. Think Apple's iPad. Why not apply this type of innovation to medicine? Design thinking uncovers latent desires or unmet needs, ultimately answering the question, "What is best for the user?"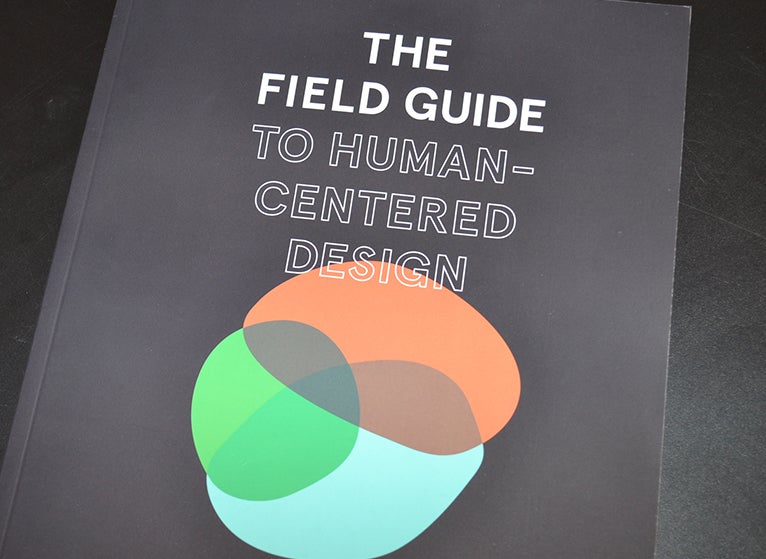 Or, in our case, it could be translated to "What is best for our patients?" As its name implies, design thinking began in design-oriented professions but it has grown significantly and is now successfully applied to business, engineering, and social issues. There are only a handful of schools applying it to medicine — and we're one of them.
Year 1: "Let's try this …?"
David Chen, MBA, Coulter Program Director, Department of Biomedical Engineering; Erik Hewlett, MD, Professor of Medicine, Infectious Diseases and International Health; and Matthew Trowbridge, MD, MPH, Associate Professor of Emergency Medicine and Public Health Sciences, ran with the idea and — with support of colleagues like Megan Bray, MD, Associate Dean for Curriculum — have grown it into something wonderful.
Last year, David and Matt co-instructed a program called Human-Centered Design that had 10 first-year medical students field trip to the Be Safe Situation room, where they learned the True North issues of the Health System. While Be Safe was using Lean problem-solving to tackle the Big 6 issues, the students broke into two groups and decided if they could positively affect the "patient falls" and "readmissions" categories. Using design thinking, the students uncovered aspects of patient stories that were a surprise to even the most knowledgeable in the Health System. More importantly, their interviews and enquiries resulted in actions at the patient-care level. (A special thank you to Paul Helgerson, MD, who was vital to their access and Be Safe education.)
My takeaway from this first year is almost Seussian: A healer's a healer no matter how small their med-school training is. They cared to make a difference and they did. (Additionally: They did it on their own time!)
Year 2: "Let's partner with Architecture."
For the 2016-2017 year, the 15 first-year medical students participating in Human-Centered Design are tackling the Emergency Department expansion project — and they're doing so by partnering with School of Architecture students across Grounds in Elgin Cleckley's class. (Cleckley, a recent hire, is an Assistant Professor of Architecture and Design Thinking.) Together, the students in both schools are discovering how an emergency room should be designed with a patient-centered focus. They're challenging themselves to discover the factors that would improve the patient experience. Their goal is to promote a more informed conversation within the Health System by bringing the patients' voices, ideas, and desire more clearly into view. They're reframing the question for the rest of us. Can they propose a radical re-imagining of what an emergency room should be? How radical will we let it change? Design thinking teaches that true innovation can sometimes come from examining the extreme ends of the bell-curve. And they're doing just that.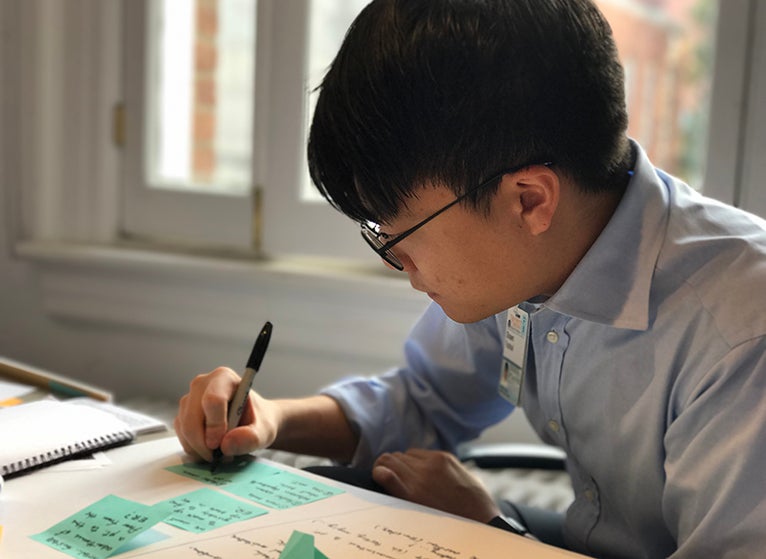 The program is experimental and dynamic and, itself, a product of design thinking. For the ED Expansion Project, the students gathered thoughts on essential elements for an emergency room, from the patient perspective, and provided it as output to the A-School students. At a recent Friday-afternoon session, the architecture students replied with visual prototypes and video presentations describing improvements. Broad concepts like "chaos" and "comfort" and "uncertainty" and "normal" were considered. No idea was too ridiculous. Nothing was dismissed. As med students watched these videos, they wrote initial impressions in a group-shared Google Doc, after which Matt recorded on-the-spot videos with his phone. All of this became more input data for the architecture students' design projects.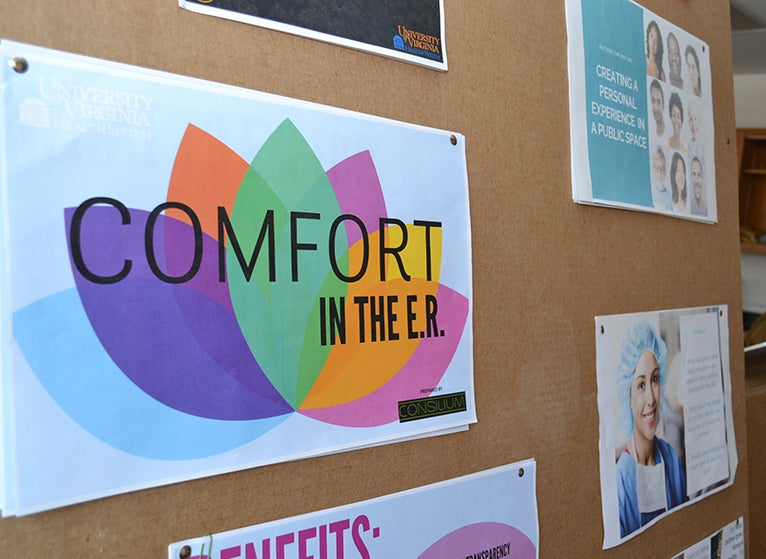 It is a whirlwind of creativity and out-of-the box thinking. In an institution steeped in tradition and within a Health System governed by necessary protocol and critical procedure, witnessing pure creation and co-inspiration is something to behold.
The Future Is Full of Challenge
Erik, David, and Matt all freely admit this is an experiment. But one worth trying, as design thinking is an emerging area in education. Their goal is to use this small program as a prototyping space for development of relevant additions and new approaches to the core medical school curriculum at UVA (and nationally). For example, Matt recently delivered to the second-year class a workshop on empathy-based interview techniques from design thinking. The idea was to help them develop a diverse set of interview skills — rather than a purely clinical interview — as they transition into their clinical clerkships and onto their full medical careers. Adding this tool to our already vast educational toolbox is yet another differentiator for UVA. We're only one of a handful of schools in the country who is offering a program like this.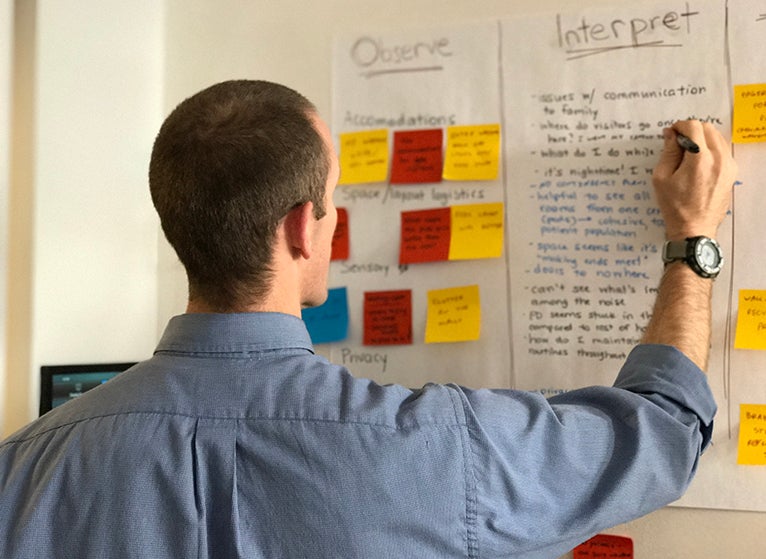 There are grand challenges (not to mention changes!) in healthcare, issues which medical and science knowledge alone cannot solve. The most pressing issues of the day are complex and physicians have a definite role to play in solving them, but it is not a purely clinical role. Alongside their regular medical education, design thinking is helping our medical students learn the language of other fields and cultures, such as technology, business, and design. With this added tool, our med students can cross-cut different spaces to find the common ground. In the future, this will enable them to translate public health and medical knowledge into those fields, which will in turn deliver a broad impact.
The future of healthcare is full of change, too, and design thinking allows us to provide future physicians — alongside their traditional clinical skills — with a structured approach to managing that change. It will aid their ability to work in interdisciplinary teams and tackle systems-level problems. In the end, it will also make them better physicians and researchers.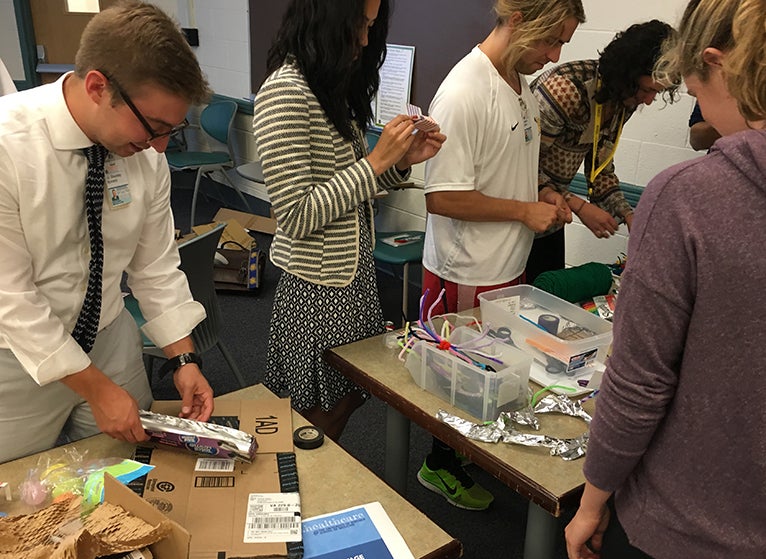 David, Erik, and Matt tell me that design thinking is fun, as it allows students (and the faculty who are teaching them) to open up their minds, refresh themselves, and think creatively about the field to which they've devoted their lives.
I am proud of what David, Erik, and Matt have accomplished just as I am proud of the students and their efforts. UVA is already emerging as a national leader in the conversation of applying design thinking to medicine — Matt recently spoke at Stanford about our program. (Click here to see a clip from that talk.) I look forward to seeing the role UVA can play in using design thinking to improve the human condition.
R.J. Canterbury, MD
Senior Associate Dean for Education
Filed Under: Education