The below story was posted to our internal news site, but I was so thrilled that I need to share it here on the Dean's Office Blog. Our medical students are truly remarkable.
R.J. Canterbury, MD, MS, DLFAPA
Wilford W. Spradlin Professor
Senior Associate Dean for Education
**********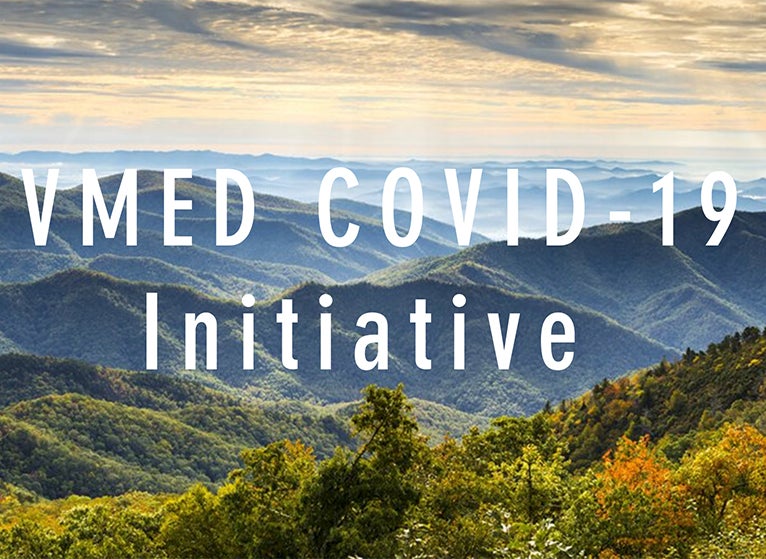 Just When You Thought Our Medical Students Couldn't Be More Awesome, They Go and Do This …
By Brian Murphy
I've been writing about our students in the School of Medicine for nearly a decade. One constant I've noticed throughout the years: med students always leave me in awe. This year, especially.
They are dealing with our same pandemic-induced fears, anxieties, and stressors. They are also under the same stay-at-home orders as us. But they're now attending medical school completely online — something that has never been done before. (More on that here.)
But that's not enough.
They want to help.
In response to the pandemic, several medical students started organizing projects to meet a variety of community needs. Lydia Prokosch (SMD22) and Becca Kowalski (SMD22) recognized a need to coordinate these efforts among their classmates. They gathered the project leaders in the third- and fourth-year medical school classes, and together they started the VMED COVID-19 Initiative — an entirely student-run organization that collates information on high-impact, pandemic-focused student projects.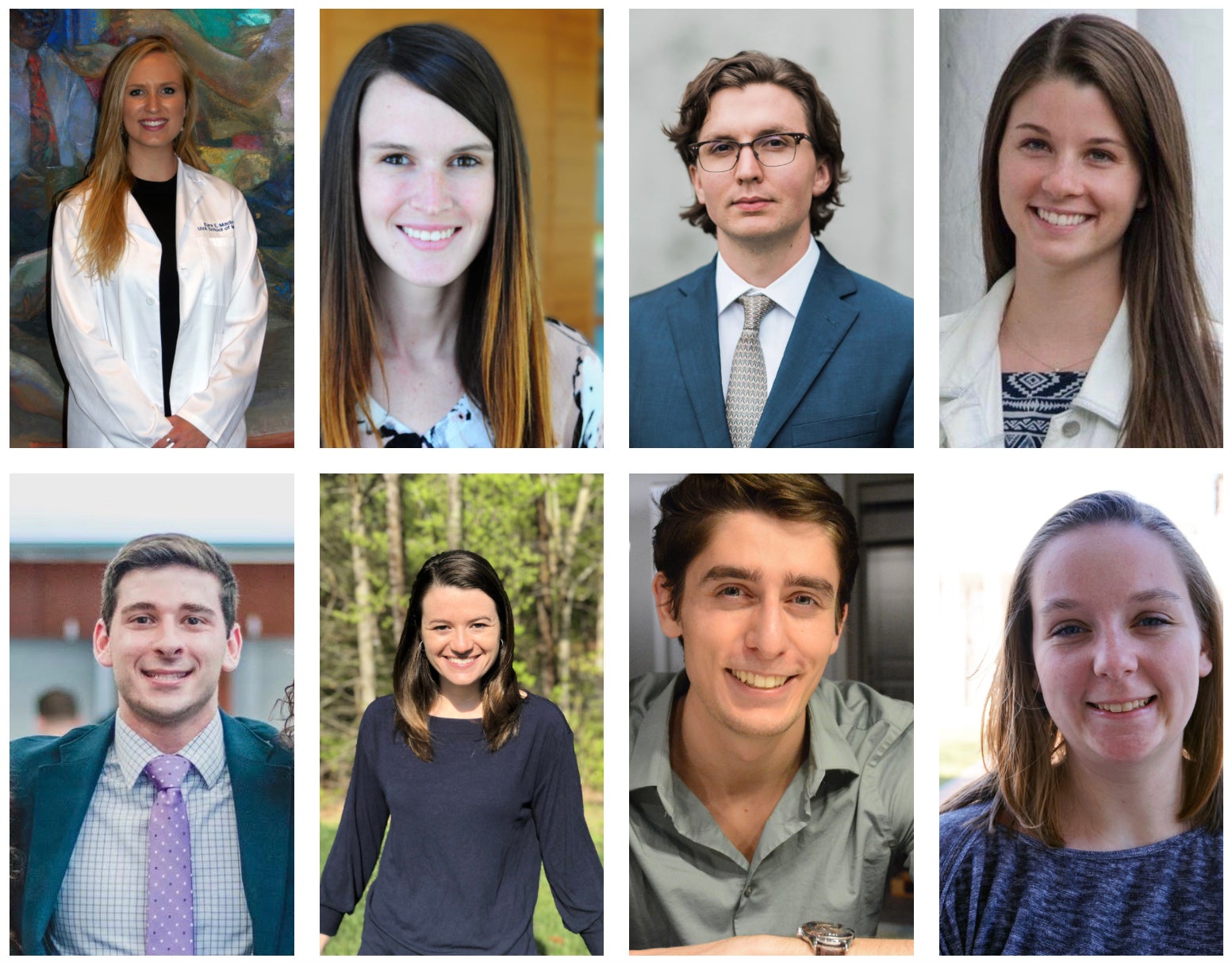 Current projects include:
Virginia Medical Reserve Corps (MRC) | supporting ongoing public health initiatives and assisting during emergencies throughout Virginia.
Senior Outreach | senior-student phone call program and card delivery/pen-pal program for isolated retirement-community members. Thus far, 250 cards have been delivered to the residents of Westminster-Canterbury nursing home.
Haven Food Delivery | delivering food for high-risk, local homeless shelter guests who are sheltering-in-place at local hotels
Mask Task Force | creating infographics on best mask-wearing practices and supporting their peers in making masks to share with friends, families, and community organizations
Medical Supply Drive | local team of national initiative; contacting local businesses to ask for donations of any PPE they may not be using
Coffee Shop Support Project | coffee donation campaign that aims to provide coffee for healthcare workers on the frontlines
Blue Ridge Juvenile Detention Center Creativity Project | students at the detention center are in the process of making cards to share with healthcare workers who are fighting COVID-19 in our hospitals
Hand Sanitizer Pump Bottle Drive | collecting empty hand-pump bottles to fill with hand sanitizer and stock up hospital workstations, residents' offices, and other major work areas at UVA Health
Muscular Dystrophy Association (MDA) Quarantine Camp Gifts | sending a little bit of camp to the kiddos whose camp has been canceled, including craft kits with pinewood derby sets and bracelet-making sets
Wellness Initiative | compiling a list of resources for people to stay healthy, fit, and connected
55-Word Story Project | Dr. Marcia Childress and a group of third- and fourth-year medical students are compiling a collection of students' 55-word stories from their recent online "Confronting Epidemics" course. Together, these stories create a richly detailed snapshot of our lives during the coronavirus crisis and, especially, the early days of staying at home.
Faculty Gratitude Committee | creating expressions of gratitude for faculty as they create new online curricula for School of Medicine students and peers as they continue to show incredible dedication to their community
COVID-19 Creativity Project | poems, short literary works, memes, comics, sketches, paintings, and music videos related to COVID-19
When the pandemic started, UVA medical students saw an opportunity to join forces to create a centralized hub of information to get people involved. Prokosch says the VMED COVID-19 Initiative was created "to reach out to the Charlottesville community to provide support and share resources during this time of social distancing and isolation; to centralize communication and mobilize UVA medical student volunteers; to provide a platform for creating poetry and art during this time of uncertainty; and to express gratitude to hardworking medical school faculty." Shefali Hedge(SMD20), Jessica Little (SMD21), Katie Webb (SMD22), and John Costello (SMD21) have been instrumental in gathering additional student volunteers for the projects.
In addition to helping with a national volunteer project, Alina Zufall (SMD21) has helped broaden awareness of the UVA student initiative by creating an impressive online presence. "I decided that a website would be the best way to provide information to our peers and members of the Charlottesville community about different initiatives that we are running in support of those affected by COVID-19. I think it is great that some initiatives are meant to support students and faculty by providing an outlet for creative expression. We have a creative works tab on the website where we showcase these amazing works. … More initiatives are being created every day and students seem excited to get involved." Kara MacIntyre (SMD22) has continued this work by bringing updates to the community through social media.
Zufall is hoping to inspire students to get involved in helping those affected by COVID-19 through a variety of different ways, not just being on the frontlines. "We also want to provide educational resources to students so that they may help members of the community who are suffering due to the downstream effects of policies in place due to COVID-19 — whether that is a loss of housing, food security, or mental-health concerns due to isolation." To that end, the students organized relevant resources from faculty members and community organizations.
At the moment, the site is focused on the Charlottesville community, though many students are working on the project from their homes in different states. Twenty-one students in leadership oversee the individual projects and roughly 200 students are volunteering.
Here's what a few of them have to say about their projects and why they got involved:
Mike Salomon, SMD22
Gratitude Committee Coordinator, coordinating class acts of appreciation; MDA camp volunteer; team member with UVA Geriatric Engagement and Resource Integration for Nursing Homes (GERI-NH), 55-Word Story Collection Co-Leader, Head of Public Relations for VMED COVID-19 Initiative
"Many of us, myself included, are driven primarily by the purpose of helping others- that's why we chose medicine. While we cannot safely practice medicine now, we can help those around us by reaching out, showing support, organizing information and materials, and making sure no one gets left behind."
Becca Kowalski, SMD22
Facilitating group developing mask instructional videos & community infographics; volunteer with Haven Food Delivery & gratitude committee
"The pandemic shut down all of the traditional ways we, as medical students, help the community, so we've had to get creative! For many of us, community outreach is what adds meaning to our school work. I know that my classmates are pining for ways to re-engage with the communities. My favorite innovation so far has been working with the Haven Food Delivery team. The recommendations to 'social distance' or 'shelter at home' come with obvious challenges in a shelter setting. By providing hotel rooms for some of their highest-risk guests, the shelters have a greater ability to protect guests and staff. I am so grateful to Shefali Hegde who worked closely with folks at Thomas Jefferson Area Coalition for the Homeless and the Haven, for finding a way for us to provide logistic support for this initiative. I hope that in delivering meals to these guests quarantined in hotels, we are also helping folks feel a little less forgotten in these times of extreme isolation.
"Separately, I cannot say enough about our curriculum committee and course leaders. At a time when priorities lie elsewhere (e.g., family, clinical responsibilities), they have put incredible, thoughtful work into course development — and at lightning speed — to ensure that we stay occupied with meaningful activities and on track for graduation; I am grateful to Mike Salomon for formalizing a means to show our appreciation to our awesome faculty!"
Shalini Subbarao, SMD22
Organizing camp craft kits for kids who attend MDA summer camp; collecting hand-pump bottles to fill with hand sanitizer to stock up hospital workstations, residents' offices, and other major work areas at UVA Health.
"MDA summer camp got canceled and we wanted to bring a little summer camp to the kids while they're in quarantine. It's something the kids look forward to every year that lets them challenge themselves in a fun, safe way and creates a community with kids who are dealing with similar conditions. We wanted to make craft kits with notes from past UVA SOM counselors to spread a little camp spirit, and let them know we're thinking about them!
"The hand-pump drive is in response to the shortage of hand sanitizer that we're seeing all across the country. Dr. Robin LeGallo organized the drive and created a partnership with Silverback Distillery, and I'm collecting the bottles from all the gracious donors in the community. Together, we're doing our part to keep our UVA healthcare workers safe!
Kara MacIntyre, SMD22
Co-leader of Wellness Initiative; Social Media Director; Gratitude Committee Volunteer
"For Social Media Outreach: We are hoping to feature pictures of students helping others during this pandemic. Whether you're making masks, writing cards to nursing home residents, delivering groceries, or anything else, send a picture and caption to @vmedcovid on Instagram, or you can email it to me. We hope to inspire others to join the effort and to connect people with organizations in need!
"For the Wellness Initiative: We are collecting a list of resources for people to stay healthy, fit, and connected, such as virtual book clubs, fitness classes, and mental health resources."
Andrew Burns, SMD22
Virginia Medical Reserve Corps Liaison and Volunteer, Cville Community Cares Volunteer
"Service has always been a big part of my life, especially during medical school, as a way to keep myself grounded in why I wanted to become a healthcare provider in the first place. Like my fellow classmates, I wanted to find a way to get involved while respecting the decision for us to stay at home. I actually learned about the Medical Reserve Corps from my undergraduate premedical advisor. It sounded like a great way to support our community in medical, public health, and general support capacities. When I heard that the VMED COVID-19 Initiative was being created and that a liaison to connect students to the MRC was needed, I saw this as an excellent opportunity to support the incredible work of this organization. Through the MRC, I have completed training in public-health and disaster management so that I will be better prepared when I am called to serve. I hope to support the MRC by sending them as many students as possible to help them reach their goal of 30,000 volunteers throughout VA. Medical and non-medical volunteers are needed, so consider registering today at www.vamrc.org!"
Lydia Prokosch, SMD22
Co-leader of Senior-Medical Student Connection Initiative (with MSTP student Jessica Little), COVID-19 Creativity Project coordinator, 55-Word Story Collection Co-Leader, Hook Scholar, Head of New Project Development for VMED COVID-19 Initiative
"Senior-Student Connection Initiative: Piloting medical student phone-call program for nursing home and assisted living facility residents with guidance from UVA School of Medicine faculty. Our aim is to expand from 10 senior-student pairs to include many more, as our volunteer base includes 110 students. Our purpose is to provide psychosocial support and foster relationships of value between seniors and students.
"COVID-19 Creativity Project: Now displaying 20 works of art, poetry, and music on our website, mostly student entries and a few physician entries. Our purpose is to develop meaning and cultivate reflection during a time when people are experiencing boredom, loneliness, and fear."
Jessica Little, SMD21
Medical Scientist Training Program (MSTP)
Co-leader of the VMED Senior-Student Connection Initiative, working to connect isolated senior citizens in the community with medical students
"I initially led up the Westminster-Canterbury card collection portion of this project. I collected 250 cards from 60 UVA Med students — some hand-made, and some e-cards. Many of the students included contact information and hope to begin a pen-pal relationship. I am excited to now be working with Lydia to connect other seniors in the community with medical students through the phone-call initiative."
"I think what prompted me to start this project was in part the loss of my grandfather in October. He was my last living grandparent, and had suffered from Alzheimer's disease. I am now 'grandparent-less', and felt that I would like to connect with someone in that age range during this isolating time, and maybe others would as well. I chose Westminster because I did my geriatrics rotation there with Dr. Seki Balogun, who is helping me with the project."
Logan McColl, SMD21
MD-MBA dual-degree program
Regional Coordinator for Medical Supply Drive
"Medical Supply Drive is a student-run non-profit organization that solicits PPE donations from businesses, organizations, and private citizens which we then deliver to hospitals around the nation that have the highest need. By doing this, we're helping protect our healthcare heroes and the patients that they serve during the COVID-19 pandemic.
"Nationwide we have over 600 volunteers and have collected over 110,000 units of PPE. In Charlottesville this week [mid-April] we've obtained over 5,000 gloves and 1,000 masks which will be transported to hospitals in need in Northern Virginia, DC, and Maryland. We are actively seeking donations for unused PPE, such as gloves and masks. Supplies can be in open boxes but must be unused.
[Editors note: While writing this story, Logan provided a wonderful update: "I had previously said 5,000 but the number for gloves is now 21,500!" Way to go, Logan! —Brian]
For more information on these and future projects, visit www.vmedcovid19initiative.com. If you have questions, please contact Michael Salomon (SMD22) at mss2ud@virginia.edu.
Thank you to our School of Medicine students for such wonderful support, both on and off Grounds. We are (as always) in awe of your service and commitment to our patients and the community.