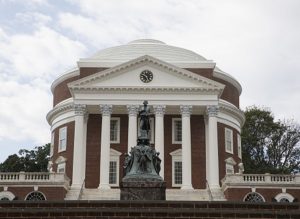 Inova Health System and the University of Virginia announced today that they have agreed to form a comprehensive research and education partnership. The institutions will collaborate on research, medical education, and the recruitment of eminent researchers, scientists and investigators to the Commonwealth of Virginia to facilitate health innovations. Together, they will put Virginia at the forefront of discovery, working to advance the science of precision medicine and improve the health of the Commonwealth's citizens.
The planned affiliation includes:
A research partnership to develop the Global Genomics and Bioinformatics Research Institute located at the Inova Center for Personalized Health (ICPH). The Institute will recruit researchers, scientists and investigators who will engage in collaborative research focused on genomics, functional biology, bioinformatics, biologically driven engineering, precision medicine, translational research, development of targeted therapeutics, and commercialization of new discoveries.
A cancer research partnership between the Inova Schar Cancer Institute and UVA Cancer Center, including efforts to achieve designation by the National Cancer Institute as a Comprehensive Cancer Center.
A regional campus of the UVA School of Medicine at Inova, which would enable UVA medical students to complete their clerkship and post-clerkship education in Northern Virginia at Inova facilities, with an opportunity for a differentiated medical education experience during the post-clerkship phase.
UVA and Inova will explore the creation of a biomedical investment vehicle to advance discovery through to commercialization.
"With a research-intensive University and health system, we are committed to developing research breakthroughs that improve the human condition and to training the next generation of physicians and healthcare workers," said UVA President Teresa A. Sullivan. "This affiliation can help us better accomplish our missions in education and research."
"UVA is one of the most prestigious research universities in the country, and Inova is one of the largest, most successful healthcare systems. This partnership leverages the complementary strengths of two institutions committed to providing the most advanced treatments and prevention strategies to the communities we serve," said Knox Singleton, CEO, Inova Health System. "We believe that this partnership with UVA, as well as with Inova's other partners, will drive economic growth and diversification in the region and position the Commonwealth of Virginia at the forefront of healthcare, scientific and technological innovation."
"We are grateful to the leaders in the General Assembly for their support and foresight in designating funds to incentivize this kind of research collaboration and innovation," said Todd Stottlemyer, CEO, ICPH. "This new partnership will further expand Inova's ground-breaking research in precision medicine and help us to realize the promise of personalized health."
Leaders from the two institutions expect to finalize a definitive agreement later this year.
An FAQ on the partnership has been posted here.