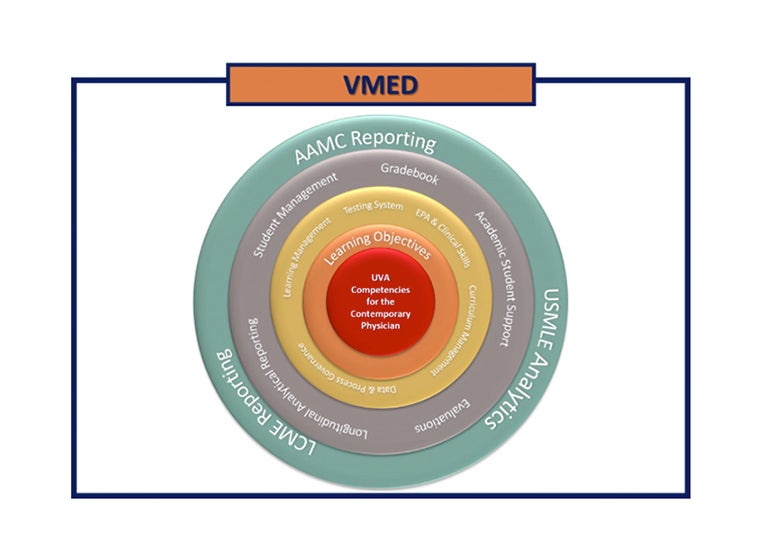 A few months ago, we discussed the development of VMED, an integrated learning-, curriculum-, and student-management system. The development team is still working on the first iteration of the product, which we hope to have available in the summer to test.
Related to VMED is the Interactive Clinical Assessment Navigator (iCan), a tool through which we can assess entrustable professional activities (EPA). EPAs cover basic skills a physician should have, such as taking a patient history, documenting an encounter, performing basic procedures, collaborating as part of an interprofessional team, and interpreting lab values. In terms of use, we have seen dramatic expansion of iCan's use in the past few months. It was first implemented in part of the clerkship class, then moved to all of SMD19, and is now also being used by SMD20. By the fall, SMD21 and SMD22 will be using it as well. It's exciting to see a product we developed being implemented so widely and quickly.
But this is about more than a new tool and who is using it. This is about using the lean methodology and continuous process improvement to make our systems better. Better for faculty and better for students. It's about asking, "Is this the best way to assess our students' clinical performance?" If it's not, we stop the process and collaborate to find a solution. The key word here is "continuous." There's no finish line in our improvement journey.
iCan is a part of the larger VMED system and, thus far, has been well received. The team is continuing to meet with system leaders, clerkship directors and coordinators, faculty, and staff to discuss what to expect from iCan and to understand how it will help facilitate preparation for the next academic year.
I offer my thanks to Maryellen Gusic, MD, who has been a champion for EPAs and iCan, and is one of the reasons its expansion across the cohorts of students is going so well. For more information on VMED — a timeline, progress dashboard, and other documentation — visit the website here. If you have questions, please contact Kim Holman. Keep an eye on the Dean's Office Blog in June for the next VMED update.
R.J. Canterbury, MD
Senior Associate Dean for Education
Wilford W. Spradlin Professor
Filed Under: Clinical, Education, Operations