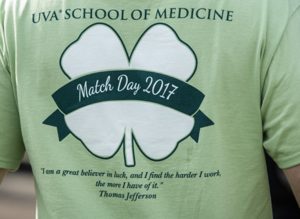 On St. Patrick's Day, March 17, 149 members of the UVA School of Medicine's Class of 2017 tore open envelopes and learned where they would be heading for additional training as residents.
I could not be more proud of them. Every year seems to be more and more competitive and yet our students always rise to the challenge. The below list shows how the residency spots filled out, by specialty:
Anesthesiology | 6
Dermatology | 2
Emergency Medicine | 11
Family Medicine | 9
General Surgery | 11
Internal Medicine | 36
Interventional Radiology | 2
Neurological Surgery | 3
Neurology | 3
Obstetrics and Gynecology (incl prelim) | 7
Ophthalmology | 4
Orthopaedics | 4
Otolaryngology | 4
Pathology | 3
Pediatrics | 18
Physical Med/Rehab | 2
Plastic Surgery | 1
Psychiatry | 4
Radiology/Diagnostic | 10
Radiology Oncology | 2
Urology | 2
This list represents many great matches to top-rated institutions such as Duke, Mass. General, Yale, Stanford, Northwestern, Brigham & Women's, Vanderbilt, UCSF, Cornell, Beth Israel Deaconess, University of Washington, and Johns Hopkins. While our students do all of the heavy lifting during their medical education career, I would like to thank our faculty and staff for training and supporting them for four years. Results from Match Days like this should make you feel great — it certainly does for me.
While I will miss the students who are leaving, I find comfort in knowing that 21 of our graduates chose to stay in Charlottesville, doing all or part of their residency program here at the University of Virginia. I look forward to seeing them around the School and the Medical Center.
Please join me in thanking our colleagues at the Medical Alumni Association for hosting such a terrific Match Day event and in congratulating these 149 students!
R.J. Canterbury, MD
Senior Associate Dean for Education