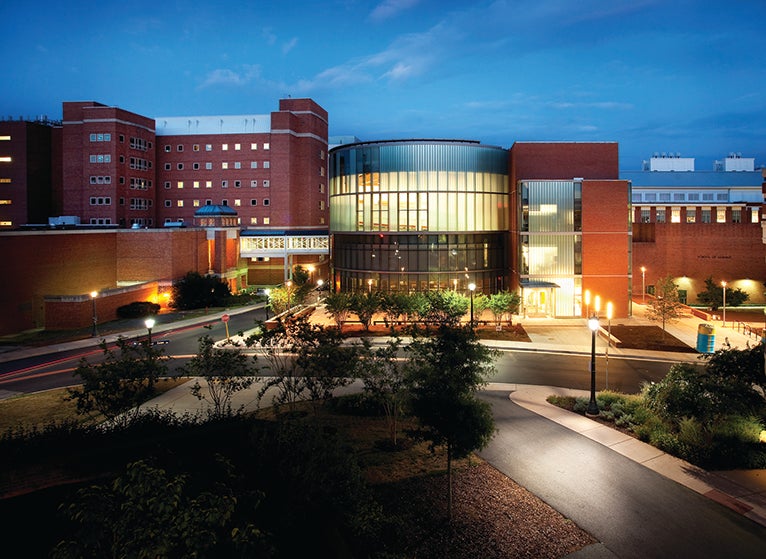 The School of Medicine's Medical Advisory Committee (MAC) met on August 13, 2019, 4-5 p.m., in the Biomedical Sciences classroom. Here are highlights from that meeting:
Opening Comments from the Dean
David S. Wilkes, MD, Dean
Dean Wilkes introduced Acting EVP-Health Affairs and CEO, Pamela Sutton-Wallace. She discussed the evaluation of billing policies and procedures and shared that recommendations for changes will be announced by end of the week. 
Ms. Sutton-Wallace shared that she will be leaving UVA in November to assume the position of Senior Vice President and Regional Chief Operating Officer at New York-Presbyterian. Dr. Chris Ghaemmaghami will serve as Interim CEO. Another Acting EVP-HA will not be appointed as the search for the permanent EVP is actively underway. Drs. Wilkes, Ghaemmaghami, Chhabra, and Cipriano will continue to lead together as the search process ensues. 
Honor the Future
Amy Karr, Interim Assistant VP, UVA Health System Development
Ms. Karr stated that the campaign will officially launch its $5 billion campaign, with a goal of $1 billion for the Health System, on October 12, 2019. To date, $371 million in philanthropic funds have been received, of which approximately one-third is attributable to grants to investigators. 
Each school was given a reserve of $4 million in matching funds for Bicentennial Professorships. The SOM has $2 million remaining. If you have a donor in mind who might be interested in supporting your program through a professorship, please contact Ms. Karr. Unused funds return to the general fund after December 31, 2019. 
Open Enrollment and Back-Up Care
Rebecca Gristina, Director of Human Resources, Benefits
Open enrollment, October 7-18, is the time for eligible employees to select their benefit options for the coming year. This is the first time that open enrollment will be done in Workday. There will be no confirmation period this year, so any benefits changes must be made by October 18. Open enrollment changes take effect on January 1, 2020. 
Ms. Gristina said that the open enrollment website (hr.virginia.edu/oe) will be the central repository for announcements, schedules, and resources. Resources include presentation dates, podcasts, and videos. Picwell is a new interactive tool that lets users input their preferences to determine the best-fitting benefits options. 
Benefit Expos will be held on October 9 on the third floor of Newcomb Hall and on October 10 at the Medical Center's Education Resource Center. 
Starting this year, BeWell will deliver services to Hoos Well team members under the name Hoos Well Advocacy. It's important to note that November 30, 2019, is the deadline for redeeming 2019 rewards, and January 15, 2020, is the date of the portal launch and the new program year begins. 
Bright Horizons is the vendor that provides back-up care. This service is not limited to Charlottesville and is even available out-of-state. In addition to childcare, back-up care is available for eldercare and family members. Note that back-up care is not "care on demand." 
UHR has worked with Bright Horizons to increase staffing and on-going capacity in Charlottesville. If the company is unable to meet needs and an employee must turn to an out-of-network option, reimbursement is possible. For those with needs to cover non-traditional work hours, in-home care may be the best option. 
Employees must register for the benefit prior to using it. This can be done on the HR website. 
Possible Changes to USMLE Score Reporting
Randolph J. Canterbury, MD, Senior Associate Dean for Education
Susan E. Kirk, MD, Associate Dean for Graduate Medical Education
Dr. Canterbury provided some background information on the LCME step exams. The intent was to establish a single pathway to licensure through Steps 1, 2, and 3. These exams were designed and scored to set a pass rate for minimal competency, and they are not achievement exams. Nonetheless, the scores have been used for other purposes, e.g., progression in school and, especially, to determine which resident applicants to invite for interviews. 
The overemphasis on these scores, especially Step 1, has led to serious compromise of student well-being. A national invitational conference to study this issue recommended pass/fail to counter the false assumption that a higher score on Step 1 predicts better residency performance. It was also recommended that the data be made available for research, e.g., on the correlation of USMLE performance to measures of residency performance, and on how to minimize the racial demographic differences in USMLE performance. 
A final recommendation is to convene a cross-organizational panel to create solutions for assessment and the challenges of transitioning from UME to GME. The plan will include scope and times. The process targets approval of the plan by the end of calendar 2019. UVA already is addressing the transition from UME to GME through the EPA assessment program, which ultimately will provide program directors with broad information about each graduate's clinical-skill competence. 
Diversity Plan Updates: 2018-19 Practices & Progress
Gregory Townsend, MD, Associate Dean for Diversity
Dr. Townsend thanked the chairs for their support of diversity and inclusion initiatives. There has been active support from the chairs throughout the School. 
Dr. Townsend reviewed an extensive list of actions that departments have taken to increase diversity and inclusion. He and his staff in the Office for Diversity are available to help with training, presentations, data, and other resources. 
The next meeting will be Tuesday, October 8, 2019, in the MEB Learning Studio. 
Filed Under: Education, Faculty, Operations, Research