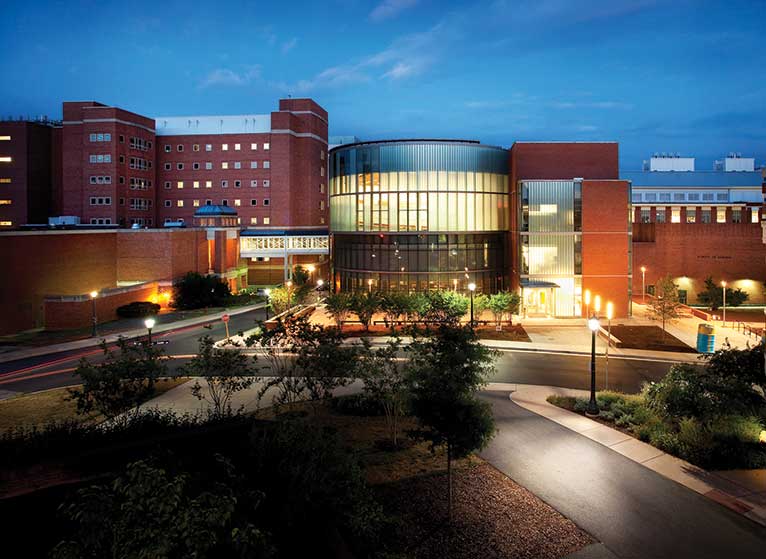 The School of Medicine's Medical Advisory Committee (MAC) met on Oct. 13, 2020, 4-5 p.m., via Zoom. Here are highlights from that meeting:
Introductory Comments
David S. Wilkes, MD │ Dean
Dean Wilkes congratulated the chairs for their part in leading the UVA Hospital to be selected by US News & World Report as Virginia's top hospital for the 5th consecutive year. In addition, we had two specialties in the top 50 (Gynecology [tied, 41] and Ear, Nose & Throat [24]); six high-performing specialties (Cancer, Gastroenterology & GI Surgery, Nephrology, Orthopedics, Pulmonology & Lung Surgery, and Urology); and nine high-performing common procedures or conditions (abdominal aortic aneurysm repair, aortic valve surgery, chronic obstructive pulmonary disease, colon cancer surgery, heart failure, hip replacement, knee surgery, and lung cancer surgery). 
Based on excellence in patient care, civic leadership, and community benefit and inclusivity, Washington Monthly Magazine recognized the UVA Medical Center as number 18 among the "Top 50 Teaching Hospitals for America." 
Dean Wilkes congratulated Dr. Taison Bell for being included on the Business Insider list of "30 Leaders under 40 Changing Healthcare." Dr. Bell received the United Way's "Caring for Community" award. He was instrumental in bringing the remdesivir trials to UVA and was a co-author on the resulting article in the New England Journal of Medicine. 
Dean Wilkes introduced Ellen Beverly, who has assumed the role of Director of Faculty Affairs, and Allison Holt, who has been appointed Associate Dean for Finance and Administration. 
Medical School Applications
Randolph J. Canterbury, MD │ Senior Associate Dean for Education
Medical school applications increased dramatically. They were up over 30% year-to-date and 20% compared to year-end last year. The increase was over all demographic attributes. We will evaluate later whether there is a shift in the quality of students. 
NIH Guidelines for No-Cost Extensions
Margaret A. Shupnik, PhD │ Senior Associate Dean for Research
When requesting no-cost extensions (NCE), Principal Investigators should work with program officers to ensure their requests are within the time and dollar limits allowed. Multi-year awards, in which all funds are given up front, typically are not given NCEs; however, it may be possible now. Again, PIs should work with their program officers to ensure the specific language required is included. 
A few weeks ago, the Senate Commerce, Science, and Transportation Committee approved the bipartisan Research Investment to Spark the Economy (RISE) Act (S. 4286). The legislation would authorize $26 billion to support research relief for universities and laboratories disrupted by the COVID-19 pandemic. In particular, the language calls out additional times for trainees to complete their course of study, and animal losses due to the pandemic. UVA Office of Sponsored Programs has set out an app to help investigators calculate and keep track of losses due to the pandemic. PIs are asked to please use this app and make sure that the information given to the VPR/OSP and the NIH is in alignment, and that all applicable supplements can be applied for. 
Attestation Reporting
Reid Adams, MD │ Chief Medical Officer
When the HOOS Health App for COVID symptom reporting was rolled out, reporting was on the honor system. However, a Joint Commission review identified the need for an attestation verification process. Everyone associated with the health system must use the HOOS Health App each day they will be physically present on health system grounds. Reporting verification will be requested only for personnel with patient-facing roles. 
September Health System Board Update
A. Bobby Chhabra, MD │ President, UPG
Dr. Chhabra provided the update of COVID-19 outreach efforts and financial summary that were presented to the HSB in September. 
COVID-19 Operations Update
Mitchell Rosner, MD │ Chair, Department of Medicine
Dr. Rosner notes that the University has done well keeping the number of COVID cases low with adherence to heightened testing, isolating and quarantining, and strictness around social distancing and size of gatherings (currently at a maximum of 10). There is no evidence of student spread into the community.
The University is participating in several large clinical trials. Enrollments are down as a result of a decrease in the number of cases. The severity of the admissions has decreased, too. As we move into the fall, with its upper respiratory and flu season, we must remain vigilant. Students will be tested weekly, before they leave for Thanksgiving, and upon their return next semester. 
We have recently set up a lab capable of running about 1,500 tests per day. The goal is to get to at least 3,000 tests per day, based on salvia-based PCR testing. The University has built up a lot of capacity for isolation and quarantine, and currently only a small percentage is being used.
The next meeting will be Tuesday, Nov. 10, 2020, via Zoom.
Filed Under: Clinical, Education, Faculty, Operations, Research