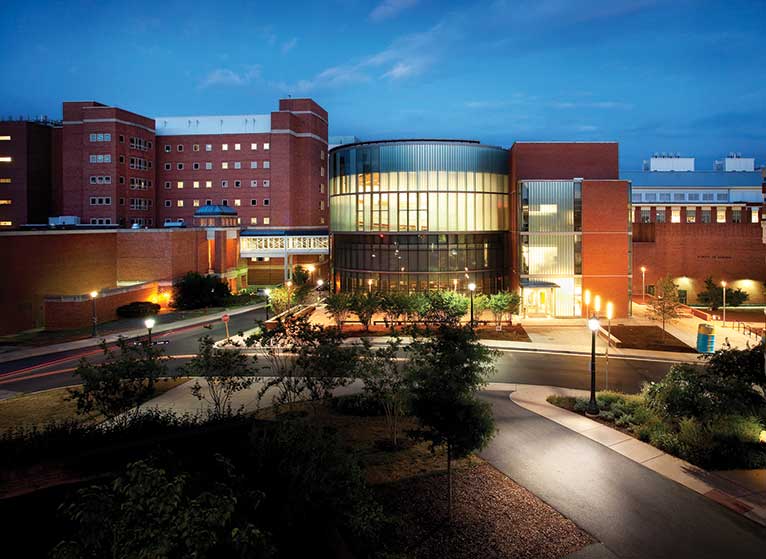 The School of Medicine's Medical Advisory Committee (MAC) met on Nov. 10, 2020, 4-5 p.m., via Zoom. Here are highlights from that meeting:
Introductory Comments
David S. Wilkes, MD │ Dean
Dean Wilkes congratulated the endowed chair electees and the 2020 School of Medicine faculty award recipients for their recognition. 
Additional congratulations went to Lukas Tamm, PhD, for his election as a Fellow in the Biophysical Society, and to Fern Hauck, MD, on her appointment by Gov. Northam to the Office of New Americans Advisory Board. 
Dean Wilkes announced that Harald Sontheimer, PhD, has been appointed chair of the Department of Neuroscience and will start Feb. 1, 2021. 
Coping with COVID-19 Survey
Susan M. Pollart, MD │ Senior Associate Dean for Faculty Affairs and Faculty Development
The survey is not just for those providing direct care to patients, it is designed to understand how COVID-19 has impacted the work of each member of the health system and everyone is encouraged to participate. The survey is anonymous and includes questions designed to help us understand how we can better support our faculty and staff. 
Department Annual Reviews: Lessons Learned
David S. Wilkes, MD │ Dean
The department annual reviews surfaced some techniques that helped faculty and staff continue to carry out their work, fostered community, or otherwise were silver linings in a difficult period. 
Kirsten Greene, MD, chair of Urology, told how eight urology programs — including Hopkins, UCSF, Stanford, Pittsburgh, and Michigan — started a collaboration to present lectures and online didactics every day for anyone to participate. The collaboration has resulted in publications (including by our Urology faculty), the production of enduring didactic content from experts across the nation. Currently 71 programs across the world are participating. This has not only provided educational content for resident but has also reflected positively on the UVA Urology department as students see UVA as one of the founders of the program. 
Li Li, MD, PhD, MPH, and Sarah Creef Baugher, chair and administrator of Family Medicine, respectively, shared how the department had begun preparing for telemedicine and, serendipitously, had already scheduled their first behavioral visit for March 13 prior to COVID-19. Thus, they were ready to employ the platform. The department has since completed about 8,000 visits and continues to conduct about 10% of clinical encounters digitally. The department uses using the doxy.me platform, and both residents and interpretation services are able to participate. Extra time is scheduled to allow for any technical difficulties. 
Kodi Ravichandran, PhD, chair of Microbiology, Immunology, and Cancer Biology, discussed how COVID-related social distancing precludes a sense of community when graduate students cannot mingle with each other as they normally do before, during, and after classes, and during their research time in the lab. Graduate coordinator Lucy Pemberton, PhD, embraced the challenge of keeping the more than 70 graduate students connected over the past months. She established a protocol for the thesis committees that included training and practicing with the students to keep them on track and prepare them for the defense. The new students met outside Pinn Hall for one session and have had other group and individual Zoom sessions to introduce new students and maintain connectivity among others. This has led to a significant amount of continuous contact, which Dr. Pemberton tracks with a spreadsheet. If she senses that a student is struggling, she touches base more frequently. Although the students are stressed, they do have a sense of connection, and this seems to be helpful in keeping them engaged and not feeling isolated. 
Liz Shifflett, Chief Operating Officer for Pediatrics, shared the department's process for faculty onboarding, which is now done virtually. It begins immediately after the contract is signed, when she reaches out to the new hire. She communicates with key people who need to know about the new faculty member, regardless of which organization they are in. About a month prior to the start date, Liz conducts a start-up meeting during which the participants review a checklist of what needs to be completed and by when. A week prior to the arrival of the new faculty member, she distributes a detailed agenda for the first week of employment. The goal is for the new faculty to feel that the Department is excited and prepared for their arrival, hopefully this means they will feel they are part of a solid organization. If you have any questions about this, please feel free to reach out to Liz. 
Douglas DeSimone, PhD, chair of Cell Biology, related how graduate student Gustavo Pacheco and his fellow students Raegan Bostic, Faith Karanja, and Danielle DaCrema established an anti-racism initiative to create a safe space that supports URM scientists in the department. It meets every couple of weeks to discuss ways that racism has intersected with biomedicine; such as eugenics, underrepresentation of Black scientists, and environmental justice. It operates much like a journal club and is run completely by the students. Everyone — students, faculty, and staff — is welcome to participate. It has brought the department closer in a time of isolation. Nature published a correspondence from Gustavo where he argues for the need for such efforts (Pacheco, 2020, Nature: 582: 341), and more recently, Cell published a commentary by the students about ways to promote inclusion in scientific communities (Karanja et al., 2020. Cell 188: 583-586). 
COVID-19 Travel Reminders
Joshua Eby, MD │ Employee Health
The holiday travel season unfortunately coincides with a surge in COVID-19 cases. The travel protocol applies to health system employees to help reduce risk among employees and eliminate the highest-risk travel activities. Refer to the Employee Health, Travel and Human Resources on the health system's COVID-19 Resource page (link) for current information. 
COVID-19 Testing Update
Costi Sifri, MD │ Hospital Epidemiologist
The development of saliva testing on grounds has opened up availability to those on Grounds. Testing is available for both patient-facing and non-patient-facing asymptomatic personnel. Check the Employee Health, Travel and Human Resources site on the COVID-19 Resources page for current information.
The next meeting will be Tuesday, Dec. 8, 2020, via Zoom. 
Filed Under: Clinical, Education, Faculty, Operations