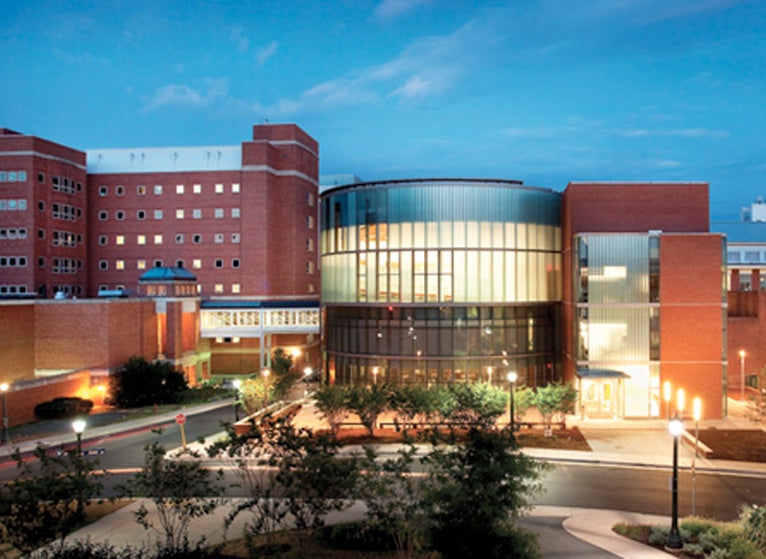 The School of Medicine's Medical Advisory Committee (MAC) met on Nov. 11, 2018, 4-5 p.m., in the Medical Education Building's Learning Studio. Here are highlights from that meeting:
Opening Comments
David S. Wilkes, MD
Dr. Wilkes acknowledged the work that the chairs and center directors have done to increase diversity and build an environment of inclusiveness. The creation of diversity plans and appointment of diversity liaisons have made a difference, resulting in the School of Medicine being awarded the 2018 Higher Education Excellence in Diversity Award. Only 35 schools in the health professions get this recognition, and this is the seventh year in a row that we have received it! Congratulations, and thank you for your contributions. 
The work of Dr. Jose Oberholzer, Director of the Charles O. Strickler Transplant Center, was featured on the cover Nature Biomedical Engineering. Congratulations to him for this accomplishment. 
The department annual reviews (DARs) have been concluded and Dean Wilkes thanked the chairs and their teams for their participation. At the third year point of holding these reviews, he observed that there is a lot of positive momentum and chairs have embraced and moved forward on institutional initiatives that will distinguish UVA. In addition to diversity, mentioned above, there was impressive progressive in moving active learning to the goal of 80% active learning. Other common themes include greater collaboration among the departments and centers and more diversity in the research portfolio. Across the board, everyone is struggling with burnout, and in the clinical departments, a challenge is supporting high salaries for high RVU specialties while trying to provide salary increases for critical, but lower RVU, services. 
 The dean's cabinet held its annual retreat after the DARs and identified four goals for the coming year: 
Create a work environment that enables excellence.

 

Improve organizational structures and processes.

 

Build external relationships and enhance development.

 

Enhance the education experience.

 
Commonwealth of Virginia Campaign
Elizabeth Shifflett
Ms. Shifflett, Pediatrics Department Administrator, is one of the executive sponsors of the Commonwealth of Virginia Campaign (CVC). The goal is to have 400 SOM faculty and staff contribute this year at whatever level they can afford. She pointed out that a small contribution of even $2 a pay period can make a big impact. And most of the money contributed stays in our community. The red envelope campaign is open through December 15 and the online campaign continues through December 26. Go here to donate online.
BIMS PhD+ Dual Degree Partnership with McIntire School of Commerce
Amy Bouton, PhD, Associate Dean for Graduate and Medical Scientist Programs
Dr. Bouton gave an overview of the dual degree pilot program established in partnership with the McIntire School of Commerce. The goal of the program is to provide BIMS PhD students with knowledge, skills, training, and credentials in commercialization, entrepreneurship, management, and leadership in the biomedical sciences arena. Students will earn an MS in Commerce in addition to the PhD. While the exceptional scientific training that students acquire in our BIMS-affiliated PhD programs will always provide the cornerstone of their professional portfolios, students who elect to participate in the sequential PhD/MS in Commerce program will gain additional training and credentials that will set them apart from the hundreds of other recent PhD graduates who have aspirations to pursue careers in pharma, biotech, commercialization, policy, etc. Given that approximately 60% of biomedical PhD graduates will not go into academic research, this program will differentiate UVA by providing expanded career opportunities to our students. 
BIMS PhD students will apply to McIntire during year 4 or 5, when they are less than a year from graduation. Once admitted to the MS in Commerce program, a SOM committee will accept up to two candidates for the dual degree "fellowship." They must complete their PhD by August of the year in which they apply, after which they will begin the 10-month MS program in Commerce. We are running a three-year pilot and then will evaluate the results and the sustainability of the program. 
Business Intelligence
Kappu Ramasubramanian
The Business Intelligence (BI) program supports the achievement of our strategic objectives by delivering information to the end users more dynamically, reducing bottlenecks, making data actionable, and enabling the use of trusted information to understand and analyze organizational performance against set goals, make better and faster decisions, gain new insights, and optimize business processes. 
BI supports the program vision by 
Building an integrated data warehouse that hosts data from multiple systems

 

Enabling the users to go to a single place to get their metrics

 

Providing self-service analytics

 

Documenting and surfacing consistent data definitions

 
The first phase of the BI program focuses on providing administrative dashboards that will help both SOM and UPG by surfacing metrics that are directly connected to the mission drivers. 
BI governance includes three groups: the Steering Committee, the Governance Leadership Group, and the Operations Group. 
The BI Steering Committee is charged with executive level decision making, developing guiding principles, setting priorities for projects, and approving data definitions, standards, policies, and timelines. The guiding principles are: 
Focus on mission value.

 

Treat data as an organizational asset.

 

BI governance will promote transparency, trust, and accountability.

 

The data warehouse is treats as the "trusted source of truth."

 

Promote a data-driven organization.

 
The BI Governance Leadership Group provides strategic and tactical direction. It develops standards, policies, and data definitions to recommend to the BI Steering Committee for approval. 
The BI Operations Group includes domain-specific data stewards, subject matter experts, and others. The group validates data and improves the data quality and processes. 
BI recently completed its first project — the Academic Funds Available report, which will allow clinical departments to see a consolidated accounting of all their academic funds, regardless of where they are held. BI has three projects in process: budget variance (clinical affairs), research efforts and salary coverage (research), and underrepresented in medicine (education and faculty affairs). Three projects are in the queue: clinical productivity, space and funding, and EPA metrics. 
Bias Reduction in Internal Medicine (BRIM)
Mitchell Rosner, MD, Chair of Internal Medicine
The BRIM initiative is funded through the NIH and is a multi-site grant that includes twelve departments of internal medicine, with Molly Carnes, PI, from the University of Wisconsin. The BRIM Initiative offers the opportunity to help faculty overcome the bias habit and align their judgments and behaviors with their explicit commitments to be fair and objective. 
Over a two-year period, all divisions in the department will be offered a three-hour interactive workshop with three modules: 
Implicit bias as a habit.

 

Becoming bias literate. (If you can name it, you can tame it.)

 

Evidence-based strategies to break the bias habit.

 
Divisions are randomized to receiving training or not. Surveys assess divisional climate, attitude, and engagement and changes in bias over time. The BRIM Initiative draws on decades of research on behavioral change in approaching stereotype-based bias as a "habit of mind" that can be changed by increasing awareness, motivation, and self-efficacy to practice evidence-based strategies. In three years, the divisions will be unblinded and the remaining divisions will be trained. 
Dr. Rosner said that Medicine has trained twelve high-level faculty and staff facilitators through the BRIMS Initiative. In the next six months, they may be available to train other departments, and he asked that you contact him regarding their capacity to meet your training needs. 
The next meeting will be Tuesday, Dec. 11, 2018, in the MEB Learning Studio.
Filed Under: Education, Faculty, Operations, Research