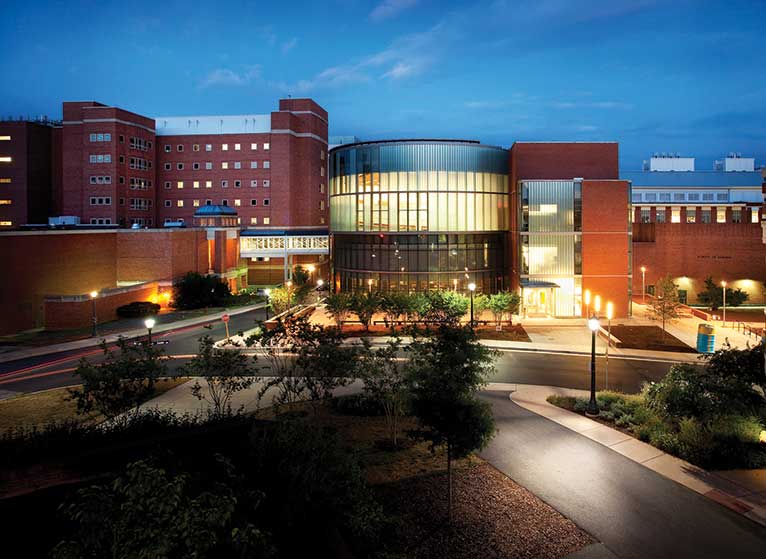 The School of Medicine's Medical Advisory Committee (MAC) met on November 12, 2019, 4-5 p.m., in the Medical Education Building studio. Here are highlights from that meeting:
Opening Comments
David S. Wilkes, MD, Dean
Dean Wilkes thanked the chairs and center directors for their focus on increasing diversity hires. Their work contributed to the School of Medicine being recognized with Insight into Diversity's 2019 Health Professions Higher Education Excellence in Diversity Award for the eighth year in a row. 
In other recognition, Dr. Jose Oberholzer is President-Elect of the Clinical Robotic Surgery Association, an international organization that helps spread robotic techniques. Dr. Mitchell Rosner received the Robert G. Narins 2019 Lifetime Achievement Award from the American Society of Nephrology. This award honors individuals who have made sustained contributions to education and teaching. 
NPR picked up a story on Dr. Stephen Rich's work on an experimental genetic early warning test to help identify children at risk of Type 1 diabetes. Many stations throughout the nation featured the story. The next day, The New England Journal of Medicine published "Six-Month Randomized, Multicenter Trial of Closed-Loop Control in Type 1 Diabetes," by the Center for Diabetes Technology's Sue A. Brown, MD (first author), Boris Kovatchev, PhD (second and corresponding author), et al. The article describes how the closed-loop system is more effective at controlling blood glucose levels than other existing treatments. 
Dr. Chris Ghaemmaghami introduced Dr. Paul Matherne, who will service as the interim Chief Medical Officer. 
Immunize UVA
Costi Sifri, MD, Director, Hospital Epidemiology
December 1 is the deadline for all faculty and staff to get their flu vaccinations or have an approved exemption. Vaccinations are required as a way of protecting our patients, ourselves, and those we care about. As of November 11, more than 3,000 individuals, both credentialed and non-credentialed faculty and staff, had not been vaccinated.
There are two opportunities to attend a large-scale vaccine clinic: 
Friday, November 15, midnight-2AM, in the Medical Center Board Room/Kitchen

 

Tuesday, November 19, 7AM-6PM, ERC, 2nd floor, Conference Room A
If you need your vaccination and cannot attend either clinic, you can go to the first-floor ERC pharmacy, which is open 24 hours, 7 days a week, or to Employee Health or Work Med. If you get your flu shot off-Grounds, you must bring in documentation so that you can get a sticker to show your compliance. 
School of Medicine Priorities
David S. Wilkes, MD, Dean
The department (and center) annual reviews (DARs) took place this fall over a six-week period. Several themes emerged: 
Engagement has increased.

 

There is greater accountability, with positive results.

 

Diversity and inclusion are valued and are becoming part of daily awareness.

 

Burnout and stress were reported across the board.

 

There is a desire/need for increased transparency about finances and processes.

 

Salaries are a dissatisfier.

 
Several important institutional initiatives are underway or have been scheduled. These include: 
Funds flow / clinical compensation plan.

 

Data gathering for the health system strategic planning.

 

Operationalizing the Inova campus and refocusing the GGBRI.

 

Preparing for the LCME accreditation survey visit.

 

Evaluation of organizational structures (IT, finance, etc.).

 
In light of the trends that emerged from the DARs and the already established work, the dean's cabinet identified four primary goals for the coming year: 
Take steps to mitigate faculty and staff burnout.

 

Increase efficiencies across the health system to let each individual provide better service and perform at their highest level.

 

Create mechanisms for timely and expanded patient access for UVA health plan members.

 

Ensure that HR services meet the School's needs.

 
We cannot delay this work. It will prepare the way for the incoming EVP-Health Affairs and help us gather additional data for when the strategic planning process is underway. The School, UPG, and the Medical Center are in alignment with these goals. 
The dean's office also wants to know what others think and is requesting input through an anonymous survey to faculty and staff (slated to go out next week) and through town halls that will be held the first week of December. The dean's office will seek input on how others feel these should be prioritized so we can begin to focus our work. 
 The next meeting will be Tuesday, December 10, 2019, in the MEB Learning Studio. 
Filed Under: Clinical, Faculty, Operations