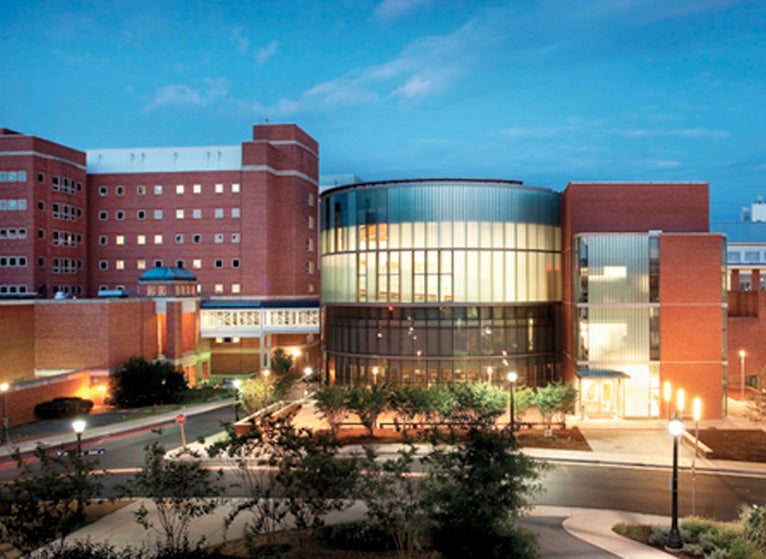 The School of Medicine's Medical Advisory Committee (MAC) met on May 14, 2019, 4-5 p.m., in the Biomedical Sciences classroom. Here are highlights from that meeting:
David S. Wilkes, MD | Dean
Opening Comments
Dean Wilkes recognized Edward Egelman, PhD, Harrison Distinguished Professor of Biochemistry and Molecular Genetics, upon his induction into the National Academy of Sciences. The Academy cited, among his many accomplishments, Dr. Egelman's groundbreaking work on the pathogenesis of UTI. 
With support from the Medical Center, Cell Biology has beautifully renovated space on the third floor of Pinn Hall. The space is flexible, bright, more efficient, and constructed in a way that facilitates interactions and collaborations. 
William Fulkerson | MC Chief Operating Officer
Sally LeBeau | Manager of Health System Parking
Parking and Transportation Update
Parking and transportation, which is already feeling the pressure of excess demand, will be strained further when the new Emergency Room, Hospital Expansion Phase 1, and Cancer Center fourth floor all come on line. In preparation, Parking and Transportation (P&T) is examining ways to provide parking and to move people to and from the Health System more efficiently. 
Ms. LeBeau discussed the current state of HS parking and bus utilization and the need to optimize transit routes during peak hours. P&T is introducing a Blue Line Express morning service between 5 and 7 AM, with boarding at the Emmet Ivy Garage and direct service to the Medical Center, with no stops in between. The scheduled time stop model on the Blue and Red lines will be eliminated so that buses no longer wait at stops for the next scheduled departure time. Instead, buses will run continuously with a maximum of 6-10 minutes between buses from 5-9 AM and 3-8 PM. P&T will eliminate several Blue Line stops to expedite service to the Medical Center. 
The fee for the purple lots closest to the Medical Center will increase by $10/month and the nearby green lots will increase by $5/month. The orange Grove Street lots will remain the same. Most free dashboard permits will be eliminated, as will the $5 accommodation discount. 
P&T will be holding drop-in sessions, posting information on Connect, and sending direct emails to permit holders. 
Karen S. Rheuban, MD | Senior Associate Dean for CME and External Relations
Government Relations Update
Dr. Rheuban gave a virtual introduction to the Government Relations team — Sally Barber, Lynne Boyle, and Carol Craig. The team serves as a resource to leadership, faculty, and staff for state and federal governmental matters, helping to ensure a unified approach to government officials. The team seeks input from appropriate Health System stakeholders on relevant legislative and policy matters. 
The team also: 
Coordinates and prioritizes legislative and regulatory issues for the Health System;

 

Maintains relations with government officials to promote the value and contributions of the HS to the Commonwealth and beyond;

 

Acts as HS liaison to the UVA Office of State Governmental Relations for state matters and to appropriate University offices for federal matters;

 

Assists HS personnel with guidance documents regarding legislation and regulation; and

 

Responds to governmental inquiries and educates officials regarding impact to the HS of proposed legislation and regulation.

 
Dr. Rheuban reminded everyone that individuals can use their personal email to communicate with legislators and staffers, but, when representing UVA, they must go through formal channels to ensure "one UVA voice." 
For more information, click here and here. 
Arturo Saavedra, MD, PhD, MBA | Chair of Dermatology
Dermatology StandPoint Action Plan
Based on the StandPoint survey, Dermatology focused on three areas: 
My departmental colleagues are respectful of my efforts to balance home and work responsibilities;

 

My department is successful in recruiting racial/ethnic minority faculty; and

 

Overall compensation.

 
Initiatives to develop and reinforce operational efficiencies are being piloted and the impact on stress and work-home balance was assessed. The virtual scribe program is allowing the physician to focus on the patient, saving money, and improving accuracy. In an effort to reduce the number of patient no-shows, patients receive text messages 72 hours and the day before their appointments and must confirm they will attend. A computerized program will then target rescheduling, rather than block overbooking, to fill in the empty slots on the schedule. Since time to first appointments exceeds eight weeks, an Access Clinic was opened by "closing" two half-day clinics until Friday. These slots are reserved for new or urgent appointments and are filled by Thursday or Friday of the next week. 
Recruiting racial/ethnic minority faculty starts earlier in the pipeline, and the department realized it was not attending many functions (e.g., SNMA and BLHO conferences) that were opportunities to meet and invite students to the clinic. All student and resident applicants meet with potential mentors when they interview, and now 32% of Dermatology's incoming residents are URMs. Faculty are invited to participate in programs such as the cross-institutional Minority Mentorship Program, the Junior Faculty Development Program, the Public Voices Op-Ed Project, and other opportunities. 
Dermatology conducts semi-annual reviews of the compensation plan with faculty. Each faculty member receives a customized report to track RVUs, number of clinics held, number of patients seen, and other metrics. The plan ensures that the focus is not simply on productivity and that teaching, research, and citizenship are recognized and rewarded. 
Lukas Tamm, PhD | Chair of Molecular Physiology and Biological Physics
Highlighting New Faculty
Dr. Tamm presented research highlights of three recent recruits. Anne Kenworthy, PhD, is Professor of Molecular Physiology and Biological Physics and Cell Biology, and she serves as Associate Director of the Center for Membrane and Cell Physiology. She is studying the role of membrane microdomains and caveolae in health and disease using a combination of live cell imaging, cell biology, biophysics, and biochemical approaches. She comes from Vanderbilt and brings three R01s, including one Multi-PI grant.
Hui-wang Ai, PhD, is Associate Professor of Molecular Physiology and Biological Physics, and Chemistry, and Biomedical Engineering. Highly collaborative, he is a resident member of the Center for Membrane and Cell Physiology, a member of the Cancer Center, and working with Dr. Jose Oberholzer in cell replacement therapy for Type 1 Diabetes. His lab monitors biological signaling in real time with the long-term goal of understanding communications relevant to toxicity of chemicals, cancer development and progression, cognition and behavior, and neurological disorders. Most recently at the University of California-Riverside, Dr. Ai transferred three grants and was awarded three more, plus two internal grants, after his arrival at UVA. He has an NSF CHE, a DoD, two R01s, a U01, and an R21, plus awards from the UVA Launchpad for Diabetes Research and a 3 Cavs. 
Stefanie Redemann, PhD, Assistant Professor of Molecular Physiology and Biological Physics and a resident member of the Center for Membrane and Cell Physiology, is seeking to uncover and understand the underlying principles of spindle assembly in cell division on a nano-scale level. Her work has implication on chromosomal segregation and effects in human development. Since coming to UVA from the University of Dresden, Germany, she has received a prestigious Human Frontier Sciences research grant, which is being carried out with collaborators in Paris, France, and Bristol, England. 
The next meeting will be Tuesday, June 11, 2019, in the BIMS Classroom.
Filed Under: Clinical, Faculty, Operations, Research