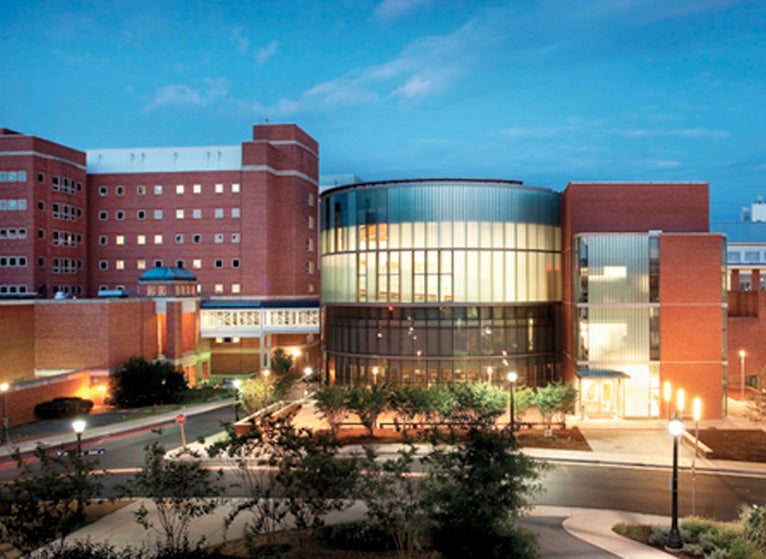 The School of Medicine's Medical Advisory Committee (MAC) met on March 12, 2019, 4-5 p.m., in the Biomedical Sciences Classroom. Here are highlights from that meeting:
Opening Comments
David S. Wilkes, MD
Dean
Dean Wilkes recognized Dr. Karen Johnston, Co-PI Donald Brown, Sandra Burks, and their team for the fabulous news that the School of Medicine was awarded almost $23 million by the NIH for a five-year Clinical and Translational Science Award. This was a heavy lift that was two years in the making, and it is a significant achievement. Congratulations and thank you to the team! 
The US News & World Report 2020 rankings have the SOM tied at 26 in Primary Care and tied at 27 in Research. We are seeking to understand why Primary Care dropped from 21 last year. In the research arena, UVA, along with other institutions, is lobbying USN&WR to count all extramural funding. If successful, this will have a positive impact on our rank. 
Elective: Working with Populations that Are Underserved
Randolph J. Canterbury, MD
Senior Associate Dean for Education
This elective — a collaboration among the SOM, the Free Clinic, the International Family Medicine Clinic, the Ryan White Clinic, and Telemedicine — lets medical students learn about the issues that confront patients in populations that are underserved. Students also work with social services, legal aid, and other safety net organizations. Their effort serves community and societal needs, and helps students understand the impact of social determinants of health. 
Health System Finances Update
Douglas Lischke
HS Chief Financial Officer
Mr. Lischke provide a summary of the Health System's financial status as of February 28, 2019. 
February Health System Board Update
A. Bobby Chhabra, MD Chair of Orthopaedic Surgery
After reviewing the Health System's FY19 Scorecard, Dr. Chhabra discussed the Community Health and Well-Being presentation that Dr. Amy Salerno shared with the Health System Board. The program recognizes the social determinants (e.g., transportation, housing, trauma), community determinants (safety, social cohesion), and societal determinants (racism, power, equity) of health. This program identifies the problem (e.g., access to care), strategies to address it (Primary Care Network), specific tactics (community health clinic, Free Clinic, UVA), and how to evaluate the impact (ED visits, avoidable admissions). 
Business Intelligence (BI) Portal
Kappu Ramasubramanian
Director, Business Intelligence
The BI portal is focused on providing administrative dashboards for informed decision-making. Ms. Ramasubramanian reviewed the three initial dashboards (Underrepresented in Medicine, Salary Coverage through Grants, and Academic Funds Available) that were deployed last month in the portal. She also reviewed the security and access framework that will be implemented in May. Until then, the personal level details associated with the Salary Coverage dashboard will not be available in the portal. It will be delivered to the departments in the O drive. 
Highlighting New Faculty
Mark Shaffrey, MD
Chair of Neurosurgery
Dr. Shaffrey spotlighted five faculty members who have been recruited to UVA in the past 18 months. 
Avery Buchholz, MD, MPH, has research interests in complications and socioeconomic impacts of complex spinal procedures, the impact and optimal treatment of osteoporosis in special procedures, and OR efficiency and technological solutions.

 

Min Park, MD, has a joint appointment in Neurology and is co-director of cerebrovascular and endovascular neurosurgery, medical director of the neurointerventional suites, director of the endovascular neurosurgery fellowship, and associate director of the residency program. With 100 peer-reviewed publications, his research interests include clinical outcomes, and he has pioneered a novel technique on direct access embolization of complex neurovascular diseases.
M. Yashar Kalani, MD, PhD, has a joint appointment in Neurology. He is Vice Chair for Research and Neurosurgery Director of the Comprehensive Stroke Center. He is engaged in collaborative projects with Jony Kipnis, PhD, Chair of Neuroscience, who helped recruit him. Dr. Kalani directs a laboratory in Neuroscience focused on stem cell biology and regenerative medicine after stroke. He has 197 peer-reviewed publications and 7 books, and he has NIH funding for research into next generation RNA sequencing to develop biomarkers after stroke.
Petr Tvrdik, PhD, came to UVA after being at the University of Utah in Mario Capecchi's group. He used Capecchi's pioneering gene targeting technology to study the role of Hox genes in brainstem development and hematopoiesis. At UVA, he studies the role of microglial calcium signaling in mouse models of ischemic stroke.
Chang-Chia (Jeff) Liu, PhD, came from the laboratory of Dr. Frederick Lenz at Johns Hopkins where he was PI, Co-PI, or Co-Investigator on university- and NIH-funded research projects and established a track record of publication in pain neurophysiology. At UVA, he has established a research lab dedicated to pain and neuromodulation research with Drs. Jeff Elias and Wynn Legon. The long-term goal is to understand the brain mechanisms of acute and chronic pain and to develop more targeted treatment approaches for patients with chronic pain.
Highlighting New Faculty
Howard Goodkin, MD, PhD
Chair of Neurology
Dr. Goodkin highlighted Kevin Pelphrey, PhD, Harrison-Wood Professor of Neurology, who was recruited from George Washington University for his expertise in autism-related and neurodevelopmental research. Dr. Pelphrey is a global leader in autism research and uses state-of-the-art techniques to develop biologically based tools for detection, stratification, and individually tailored treatment. He is a lead on the NIH-funded Autism Center of Excellence (ACE): Girls' Neurogenetics Network and currently has 3 R01s. 
At UVA, Dr. Pelphrey will collaborate with more than 60 faculty across 6 schools and 15 departments who are engaged in autism research. He will work at the community level with the Virginia Institute for Autism, and at the state level with iTHRIV/CTSA and the Inova Institute for Translational Medicine. In coordination with Pediatric Neurology and Developmental Pediatrics, he is establishing a multi-disciplinary clinic for children with autism and epilepsy to improve treatment and access to care. 
Dr. Pelphrey is a public member of the federal Interagency Autism Coordinating Committee and a board member of the International Society for Autism Research and the Autism Speaks and Autism Science Foundation. He was the recipient of a John Merck Scholars Award in the Biology of Developmental Disabilities in Children, Microsoft's A. Richard Newton Breakthrough Research Award, and the American Psychological Association's Boyd McCandless Award. 
The next meeting will be Tuesday, April 9, 2019, in the BIMS Classroom.
Filed Under: Clinical, Education, Faculty, Operations, Research