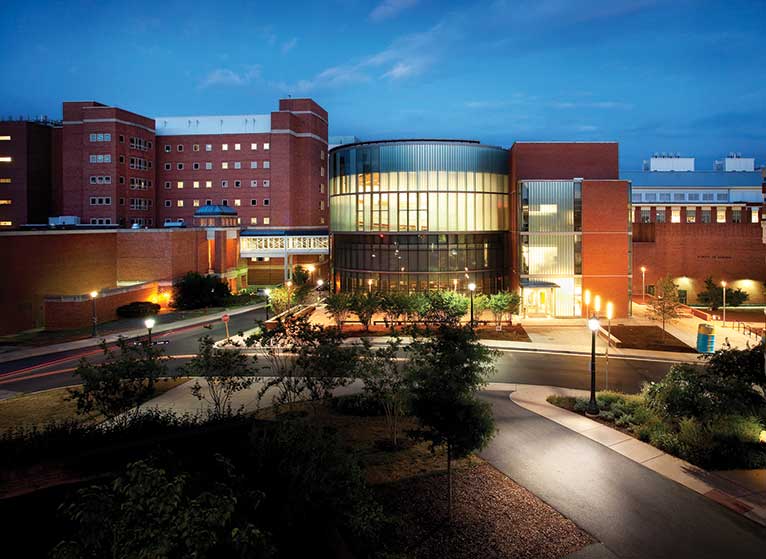 The School of Medicine's Medical Advisory Committee (MAC) met on March 9, 2021, 4-5 p.m., via Zoom. Here are highlights from that meeting:
Introductory Comments
David S. Wilkes, MD │ Dean
Congratulations to the inaugural inductees into the Academy for Excellence in Education. The Academy aims to build an inclusive learning community to foster educational excellence at the School of Medicine. 
Newsweek honored the UVA Medical Center, UVA Women's Services, and UVA Children's by inclusion on the publication's 2021 list of Best Maternity Hospitals. 
Dr. Christopher Kramer was awarded the 2021 Distinguished Mentor Award from the American College of Cardiology. The award is given to a Fellow who has shown dedication to mentoring physicians and other members of the cardiac care team. 
Congratulations to the 2021 Class of Pinn Scholars! The scholars and their projects are: 
Tajie Harris, PhD, Associate Professor of Neuroscience; T cell "selection" in the brain

 

Herve Agaisse, PhD, Associate Professor of Microbiology, Immunology, and Cancer Biology; Model for the post-epithelial phase of Shigellosis and immune interactions

 

Peter Kasson, PhD, Associate Professor of Molecular Physiology and Biological Physics; Protecting against future pandemic viruses that don't yet infect humans

 
The North Atlantic Treaty Organization has appointed James Stone, MD, PhD, Associate Professor of Radiology and Medical Imaging, to an elite research workgroup that will develop guidelines to reduce and prevent chronic brain damage among servicemen and women in NATO countries. 
Dr. Mark Roeser was chosen from a national pool of candidates for the prestigious Dr. Dwight McGoon Award. Presented by the Thoracic Surgery Residents Association, the award is considered the top teaching award for those within their first ten years on faculty. 
After four years of planning, preparation, coordination, scheduling, meetings, and unprecedented teamwork, 36 third-year students are now studying at Inova. Kudos to Craig Cheifetz, Associate Dean for Education for the Regional Campus, and Randy Canterbury, Senior Associate Dean for Education, and their teams for their extraordinary effort to bring this vision to reality. 
Dean Wilkes provided a brief update regarding this year's commencement. We do know there will not be a ceremony on the Lawn, and we are awaiting direction on our options for the SOM ceremony. 
Research Updates
Margaret A. Shupnik, PhD │ Senior Associate Dean for Research
Dr. Shupnik reviewed the procedures for allowing 4th-year undergraduate students into the laboratories. Faculty will upload their requests on the VPR's Research Ramp-Up page using the same process labs have used for the past year. The faculty member must attest that the student worked in their same lab for at least two months pre-COVID and that the addition of the student will not violate density and safety guidelines. The faculty member will provide the student's name, computing ID, and undergraduate school at UVA. The department chair and the research dean approvals are required, and the necessary verification between the schools will occur through the research deans. After receiving approval, complete and submit a volunteer form. 
Some training grants accept undergraduates from other institutions. We currently do not know when we will be accepting such students. We also expect there may be additional changes and opening opportunities to other UVA students as vaccinations increase. The Office for Research will distribute updates as we are informed of changes. 
Dr. Shupnik thanked the PIs and the building monitors for their work over the past year. Very few people in the research realm have had COVID-19, and this is due, in part, to the measures put in place and the strict adherence to the safety and monitoring guidelines. 
The Blue Ridge NIH rankings for federal FY20 have been posted. The School of Medicine is ranked #43 with $144.7 million. Last year we had $146 million. 
Dean Wilkes noted that this is Dr. Shupnik's final MAC meeting. He thanked her for her extraordinary service and noteworthy accomplishments. 
United SOM-IT Service Desk: Simplifying Access to IT Support
Kate Bakich │ Administrator, HIT Service Management 
The Unified HIT Service Desk effort was initiated by SOM leadership in response to faculty, staff, and student concerns about lack of clarity on where to get help. HIT recognized this as an opportunity to improve technical support services. HIT's guiding principles are to provide reliable help 24/7, expanded expertise, and one call access to address user needs. 
Users will experience some changes starting March 31. There will be a single number for health system IT support (924-5334), improved documentation to clarify where to go for support, and a new portal for service desk ticket submissions and updates when MyHIT replaces Sysaid. An email explain the changes will be distributed about March 22. 
Ms. Bakich also shared that there will be an EPIC upgrade on April 25, and in-person SmartChart training has resumed. 
The next meeting will be Tuesday, April 13, 2021, via Zoom. 
Filed Under: Faculty, Operations, Research