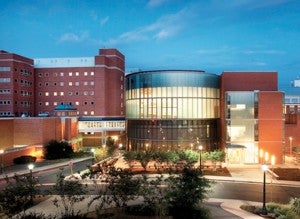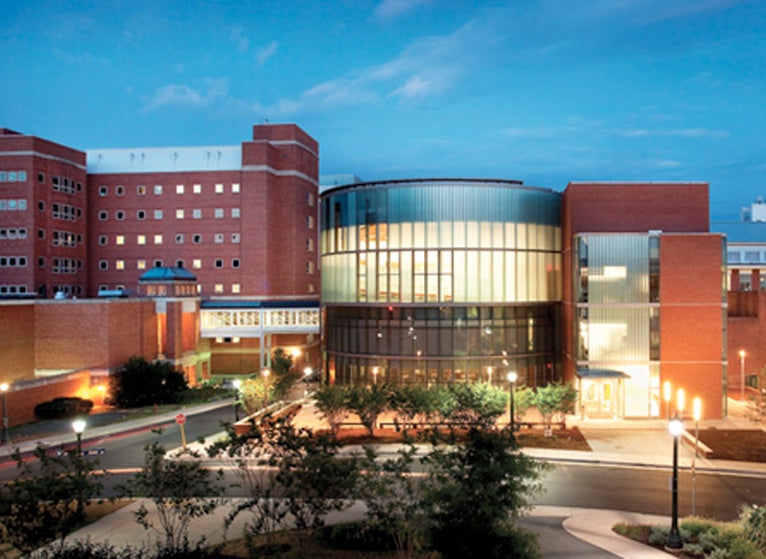 Connect to Purpose and Department Faculty Meetings (Dean David Wilkes)
Dean David Wilkes highlighted recent accolades and awards:
UVA Neurosurgery Residency Program was cited as the second most academically productive out of the 105 programs in the U.S.
Terry Bennett (Department Manager, Medical Education Programs) received the Leonard W. Sandridge Outstanding Contributor Award — the highest honor a UVA Health System team member can receive.
The Heart and Vascular Center received the 2017 Get With The Guidelines-Heart Failure Gold Plus Quality Achievement Award and was named to the Target: Heart Failure Honor Roll from the American Heart Association. They also received the 2017 Charles L. Brown Award for Patient Care Quality.
The Department of Orthopaedics received Premier Level certification from the International Geriatric Fracture Society CORE Certification Program for UVA's Geriatric Fracture Care Program.
Iga Kucharska, PhD, received the inaugural Gordon Hammes Scholar Award, which honors young scientists responsible for the best papers published in Biochemistry.
Ariel Gomez, MD, received the University of Iowa Carver College of Medicine Distinguished Alumni Award.
UVA's Board of Visitors recently approved $15.7M for the cross-disciplinary initiative called BRAIN, short for Bold Research Advancement in Neuroscience. Additionally, they approved an academic affiliation with Inova Health System Foundation that includes a research institute and a UVA School of Medicine regional campus in Northern Virginia.

By September, Dean Wilkes will be attending department meetings to have open conversations with faculty.
Office of Sponsored Programs (OSP) Update (Margaret Shupnik, PhD)
Dr. Margaret Shupnik shared that, while our research portfolio is growing, we have discovered some rate-limiting challenges. Dean Wilkes, Dr. Shupnik, and Stewart Craig have been speaking with faculty and chairs about getting received grants money in the hands of the investigators in a more expedited manner. Last week they met with the Office of Sponsored Programs and discussed ways to make the process better.
Next steps being instituted by OSP include:

Assigned specific staff to individual schools and departments
New hiring (4 new staff in June, ongoing recruitment)
Streamlining account creation
By 6/13, establish all signature-ready accounts with a 6/1 notice of award (NOA)

Goal: to establish new accounts within 5 days of NOA
Dr. Shupnik expressed gratitude to Dean Wilkes, Dr. Richard Shannon, and Pat Hogan for helping to improve this process.
National Institutes of Health (NIH) Update (Margaret Shupnik, PhD)
Next Generation of Researchers Initiative: The NIH has decided that there will be no Grant Support Index point system or limits on grants per PI.
The NIH is working on alternative methods to support younger investigators.
There will be institute-specific prioritization, but propose funding to 25th percentile:

4 years — $210M/year from existing funds
tracking progress, metrics — assess at 2 years

If you wish to comment, visit the Open Mike Blog or email publicinput@od.nih.gov.
June BOV Update (Bobby Chhabra, MD)
Dr. Bobby Chhabra represents Medical Center faculty on the University of Virginia Health System Board and shared information from its recent meeting.
Dr. Chhabra reviewed

progress since 2016 on the Health System consolidated goals and strategies,
the FY17 balanced scorecard improvements;
financial data and Medical Center cash flow sources and uses;
FY18 budget, operating income, projections, capital budget, and major strategic initiatives and investments in the coming year, including Epic Phase 2, Ufirst, the new endoscopy procedure center, the strategic hiring initiative, the clinical translational science project, advancing strategic partnerships, and retention and recruitment; and
UVA Medical Center's statistics, as compared to benchmarks at other academic medical centers.
UFirst Project Update (Jennifer Oliver, Sean Jackson, Kelley Stuck)
Ufirst will deliver a unified HR function across the organization that delivers a best-in-class HR service, enhancing UVA's ability to recruit, hire, retain, and develop top talent. Key to enabling this transformation will be the implementation of a user-friendly HR technology called Workday.
Ufirst will benefit the 28,000+ faculty, staff, and team members at the Medical Center, School of Medicine, University Physicians Group, the 10 other UVA schools, administrative units, and UVA College at Wise.
Kelley Stuck discussed the future-state HR service delivery model, aligning processes and leveraging new technology to create an excellent employee experience. She noted that the new model is an evolution of OneHR, and the work invested in OneHR has helped clear the way for this transition. She also shared the timeframe and milestones from today until Workday goes live in July 2018.
Contacts:
Be on the lookout for opportunities to view Workday demonstrations and to engage in SMR sessions in the coming months.
Filed Under: Faculty, Operations, Research