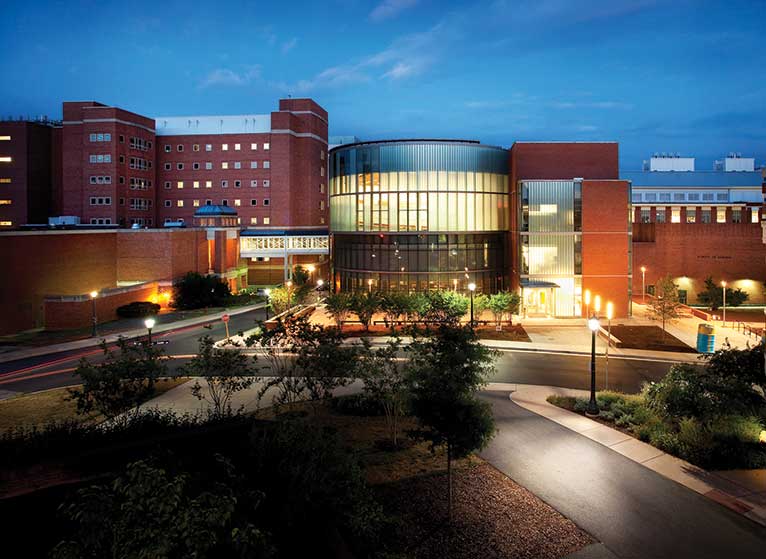 The School of Medicine's Medical Advisory Committee (MAC) met on Jan. 12, 2021, 4-5 p.m., via Zoom. Here are highlights from that meeting:
Introductory Comments
David S. Wilkes, MD │ Dean
Dean Wilkes thanked all team members who are involved in the COVID-19 vaccination effort. It is crucial that as many people as possible get vaccinated as quickly as they are able, and all employees are encouraged to sign up for their vaccinations.
Congratulations to Taison Bell, MD, Assistant Professor of Medicine, and Andrew Wolf, MD, Associate Professor of Medicine, for receiving the 2021 Outstanding Faculty Award from the State Council of Higher Education for Virginia! These awards recognize faculty at Virginia's institutions of higher learning who exemplify the highest standards of teaching, scholarship, and service.
Li Li, MD, PhD, MPH, Professor and Chair of Family Medicine, was appointed to the US Preventive Services Task Force. The Task Force is an independent, volunteer panel of national experts in prevention and evidence-based medicine that seeks to improve the health of people nationwide by making evidence-based recommendations about clinical preventive services.
Boris Kovatchev, PhD, Director of the Diabetes Technology Center, and Robin Felder, PhD, Professor of Pathology, were named 2021 Fellows in the National Academy of Inventors. The NAI Fellows Program highlights academic inventors whose work has made a tangible impact on quality of life, economic development, and the welfare of society.
Upkong Eyo, PhD, Assistant Professor of Neuroscience, and Dean Wilkes were included on Cell Mentor's list of "1,000 Inspiring Black Scientists in America." Cell Mentor is a joint venture between Cell Press and Cell Signaling Technology to help scientists answer the questions that propel them through satisfying and diverse careers in the life sciences.
Congratulations to Ashley Ayers, Senior Manager of Faculty Development Programs, and David Stewart, IT Manager, HIT Communications and Infrastructure, for receiving the 2020 Leonard W. Sandridge Outstanding Contributor Award! We appreciate the excellent work you do on behalf of the School of Medicine!
The SOM Office of Continuing Medical Education, in collaboration with the School of Nursing Continuing Education office, received notice of Joint Accreditation for Interprofessional Continuing Education.
Dean Wilkes announced that Margaret Shupnik, PhD, Senior Associate Dean for Research, will be retiring on March 14, 2021. A trusted colleague, a respected researcher, and a skilled administrator, Dr. Shupnik's many accomplishments leave the SOM in a stronger position. Linda Duska, MD, a clinical researcher and trialist in gynecologic oncology, will serve as Interim Senior Associate Dean for Research.
COVID-19 Vaccine and Testing Update
Costi Sifri, MD │ Hospital Epidemiologist
Dr. Sifri noted the high rates of cases across Virginia, including our area. We are ramping up both testing and the vaccination program. Anyone in the UVA Health environment is encouraged to get vaccinated as soon as possible. The process is quick and efficient. The local health district has begun vaccinating health care providers who are not associated with UVA Health or Martha Jefferson, and our staff is assisting with this effort. A dedicated clinic for those with allergies will be set up; details will be provided in an upcoming announcement.
Changes in the Undergraduate Medical Curriculum
Megan Bray, MD │ Associate Dean for Curriculum
Dr. Bray explained that revision of the undergraduate medical curriculum began in 2010 but was put on hold pending the 2014 Liaison Committee for Medical Education reaccreditation process. Phase 1, the pre-clerkship curriculum, has been completed with continual review and revision. Phases 2 and 3, the clerkship and post-clerkship phases, are in process and will address modifications that take into consideration the thirty-six students from Pinn College who will begin completing their third and fourth years at the UVA SOM Inova Campus starting in March 2021. Phase 2 changes will begin March 2021 and Phase 3 changes will begin in January 2022.
The details of Dr. Bray's presentation are provided in the linked slide deck.
Health System Telework Policy HSG-014
Katherine Peck │ Chief Operating Office
Ms. Peck noted that the new policy (Telework — Documentation Site (virginia.edu) applies only to staff in the Health System. It does not state who should or should not work remotely, nor does it set a date to decide who should work remotely. The policy standardizes HR practices and the provision and management of common telework technology for all staff in the Health System, and it distinguishes between temporary/emergency telework and permanent telework arrangements. It requires a telework agreement between the employee and supervisor that outlines expectations, and it states what will or will not be provided in the way of equipment, expenses, and other terms.
The next meeting will be Tuesday, Feb. 9, 2021, via Zoom.
Filed Under: Clinical, Education, Faculty, Operations, Research