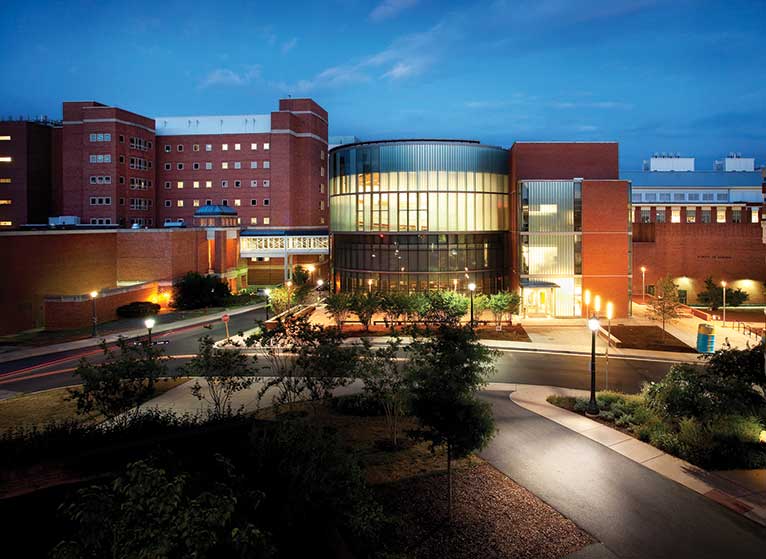 The School of Medicine's Medical Advisory Committee (MAC) met on Feb. 9, 2021, 4-5 p.m., via Zoom. Here are highlights from that meeting:
Introductory Comments
Randolph J. Canterbury, MD │ Senior Associate Dean for Education
Dr. Canterbury acknowledged the more than 700 UVA Health employees who have volunteered as vaccinators. As part of its partnership with the Blue Ridge Health District to vaccinate the community, UVA has delivered up to 1,400 doses per day. 
Cameron Webb, MD, JD, has been named Senior Policy Advisor for COVID-19 Equity on President Biden's White House COVID-19 Response Team. He will help shape national discourse and management of the pandemic. 
Arturo P. Saavedra, MD, PhD, MBA, has been named Chief of Population and Health Policy. Some of his immediate work will be to help optimize our use of telehealth, home monitoring, and prepare for care bundles. He will lead efforts to prepare UVA Health as we transition from fee-for-service to value-based care. 
The UVA research awards include a number of SOM faculty: 
Chongzhi Zang, PhD, whose work focuses on developing computational models and algorithms for analyzing data and on using data science to study the epigenetics in human diseases, received the UVA Research Excellence Award.

 

William A. Petri, Jr., MD, PhD, was named UVA Distinguished Researcher for his work on the role of the immune system in infections.
Kodi Ravichandran, PhD, was also named UVA Distinguished Researcher. His research focuses on cell clearance and how this process affects human health and disease.
The UVA Research Collaboration Award goes to David Diduch, MD, Mark Miller, MD, Stephen Brockmeier, MD, Brian Werner, MD, and F. Winston Gwathmey, MD, all members of the Department of Orthopaedic Surgery for their work with the Department of Kinesiology's Exercise & Sport Injury Lab. The lab has one of the largest sports medicine databases and has led to a real difference in improving patient outcomes.
Congratulation to Shayn Peirce-Cottler, PhD, for her induction as a Fellow in the Biomedical Engineering Society, the leading professional society in the field. 
This year's UVA Health System's Dr. Martin Luther King Jr. Award was presented to 11 people, seven of whom, including a third-year medical student, are in the SOM. Congratulations to Taison Bell, MD, Ebony Hilton Buchholz, MD, Mark Fleming, MD, Sana Syed, MD, Tiana Walker, Cameron Webb, JD, MD, and Leigh-Ann Webb, MD, MBA. 
Health System Bridge Plan Update: Information Technology Role Consolidation
Tracey Hoke, MD, MSc │ Chief of Quality and Performance Improvement
Robin Parkin │ Interim Chief of Information Technology
Katherine Peck │ Chief Operating Officer
Robin Parkin provided a status update on consolidation of UVA Health IT roles to central, enterprise-wide reporting structures. The goal is to improve quality and timeliness of IT service by simplifying access, identifying areas to expand expertise, and positioning us for future growth in support of our shared patient care, education, and research goals. The project team will be meeting with HS leaders to learn more about actual duties and roles of in-scope IT roles in 15-20 minute Discovery Sessions. 
Next Steps: An email from Robin Parkin and Bridge Plan IT Consolidation will be shared this week to identify any in-scope team members within your center or department, and provide additional project information. 
Notes: Although reporting lines may change for some people, they will not be moving their current employment to another organization. Research funded roles are not included in this project. 
Administrator Academy Initiative
Janet Heinzmann │ Administrator, Department of Surgery
Liz Shifflett│ Administrator, Department of Pediatrics
Ms. Shifflett described a new program that will help ensure alignment between department administrators' responsibilities and the training they receive. For new administrators, an onboarding component will cover standard items such as policies, meetings, systems, deadlines, websites, and other foundational information, and a mentoring program will pair them with an experienced administrator. The program also features an annual conference and routine educational sessions for ongoing education. 
The next meeting will be Tuesday, March 9, 2021, via Zoom.
Filed Under: Clinical, Faculty, Operations