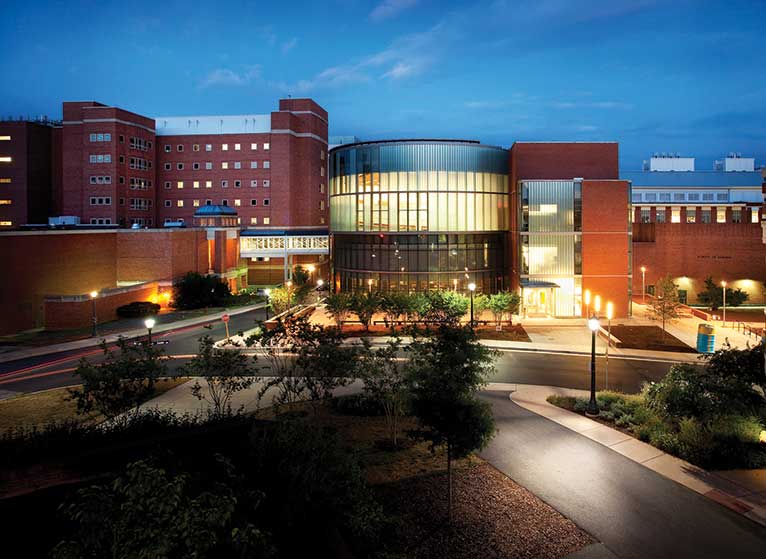 The School of Medicine's Medical Advisory Committee (MAC) met on February 11, 2020, 4-5 p.m., in the Biomedical Sciences (BIMS) classroom. Here are highlights from that meeting:
Introductory Comments
K. Craig Kent, MD │Executive Vice President for Health Affairs
Dr. Kent remarked on our great reputation as an academic medical center — the essence of which is great people. This is what attracted him to UVA. 
He stated that one of his first initiatives will be to launch a strategic planning process. This will be very inclusive, and he wants to hear from as many voices as possible. 
Opening Comments
Randolph J. Canterbury, MD │ Senior Associate Dean for Education
Several UVA 2019 research awards were announced. Ken Walsh, PhD, received the Distinguished Researcher Award; Sean Moore, MD, received the Research Mentor Award; and Rebecca Dillingham, MD, MPH, and Karen Ingersoll, PhD, were named the Edlich-Henderson Innovators of the Year. 
Mark Roeser, MD, received the prestigious Young Physician-Scientist Award from the American Society for Clinical Investigation. 
Research Retreat and Clinical Trials Registration
Margaret A. Shupnik, PhD│ Senior Associate Dean for Research
Research Retreat
The 2020 Pinn Scholars were announced at the research retreat: Andrew Dudley (Microbiology, Immunology, and Cancer), Mark DeBoer (Pediatrics), Hui Zong ((Microbiology, Immunology, and Cancer), and Michael Salerno (Medicine). 
Dr. Shupnik noted our increase in the NIH rankings – from 42 in 2018 to 40 in 2019. This represents a significant increase of $26 million. While we are still lagging behind our peers in the number of U and P awards, notable increases, such as the CTSA, have high impact and allow us to provide needed infrastructure. Several initiatives are underway for additional high-impact centers, including Cancer Center Comprehensive Status, an Alzheimer's Center of Excellence, and transitioning the Autism Network to a larger, comprehensive Center of Excellence. 
Clinical Trials Registration
The federal government is trying to make clinical trials more available to the general public and to show the value they have. ClinicalTrials.gov is the database that is used to make trials data available. The PIs of clinical trials are required to register their trial and upload their data regardless of funding source. We 
The database is cumbersome, but the consequences of non-compliance are substantial. Multiple journals will not accept manuscripts for review if the trial has not been registered prior to enrolling the first subject. The NIH is proposing not funding future work if the results are not updated, and the FDA can implement stiff fines for being late. 
The Clinical Research Office will help train clinical research coordinators and PIs to register and upload data in the correct format. (Again, only the PI can upload the data.) Even if you are late, there is value in doing this. Contact Lori Elder, lje5u@virginia.edu, for assistance. 
You can also include comments regarding the difficulty of the process. This will be helpful in getting improvements for the system. Please upload any comments on using the process at https://clinicaltrials.gov/ct2/manage-recs/fdaaa. This will also lead you to current regulations and penalties. 
MyChart Release Changes
Arturo P. Saavedra, MD, PhD, MBA │Chief, Ambulatory Strategy and Operations
Robin Parkin, CPHIMS, CHCIO │ Interim Chief Information Officer
Federal regulations that went into effect in January require us to provide data electronically to patients in a timely manner. 
MyChart is our format for sharing this information. Patients want secure, electronic communication, and this is an opportunity for us to help our patients improve their understanding and engagement in their care, increase their satisfaction, have better compliance with their plan of care, and realize ease of interaction with us. This will require clinics to change communication methods and to push content (e.g., questionnaires, forms, education, care plans) to the patient. 
Patient portal release timeframes are: 
Mid-April 2020

 

Modify release of finalized results/studies. Clinical labs, 1 day; all other studies, 2 days.

June 2020

Auto release of clinic notes — 2 days (new). Note that the time starts once the note is signed.

August 2020

Auto release discharge summaries — 2 days (new)
The work is not new, and this offers an opportunity to reduce variability in current processes. LIPS will use the system and aim for response to patients within 72 hours. Staff will be better able to function at the top of their license. Patients will understand this is our way of communication. 
The next meeting will be Tuesday, March 10, 2020, in the BIMS Classroom. 
Filed Under: Clinical, Operations, Research