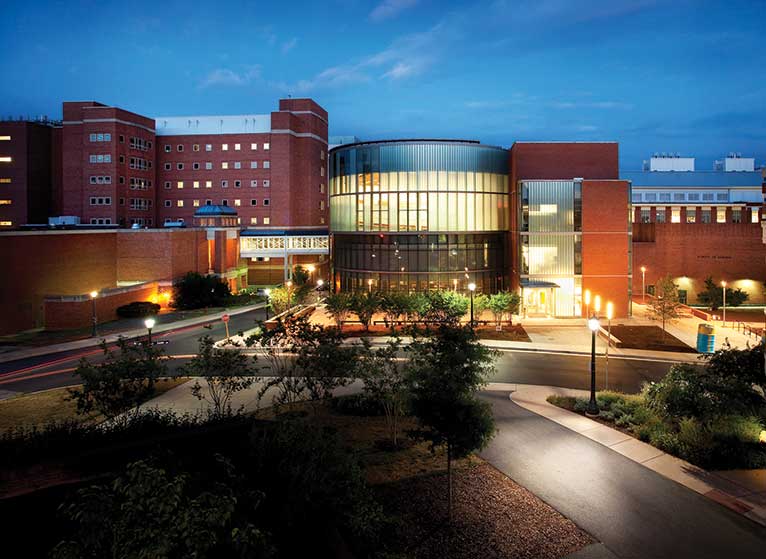 The School of Medicine's Medical Advisory Committee (MAC) met on Dec. 8, 2020, 4-5 p.m., via Zoom. Here are highlights from that meeting:
Introductory Comments
David S. Wilkes, MD │ Dean
Dean Wilkes welcomed Peggy P. McNaull, MD, who joined us December 1, as the new chair of the Department of Anesthesiology. He introduced Coleen A. McNamara, MD, in her new role as director of the Beirne B. Carter Center for Immunology. 
Congratulations to William A. Petri, Jr., MD, for being the 2021 recipient of the Maxwell Finland Award for Scientific Achievement, which is bestowed by the National Foundation for Infectious Diseases. 
UVA Health has received the magnet designation for another four years. Congratulations to Mary Dixon, Chief Nursing Officer, and the very hard-working team that coordinated the effort. 
Margot Mellette, SMD21 and Generalist Scholar, received the 2020 Excellence in Public Health Award. This is presented by the US Public Health Service Physicians Professional Advisory Committee of the Center for Disease Control and Prevention. 
Dean Wilkes introduced Harald Sontheimer, PhD, who joined the meeting in advance of his appointment as chair of the Department of Neuroscience and will start February 1, 2021. 
COVID-19 Update
David S. Wilkes, MD │ Dean
Dean Wilkes shared Dr. Costi Sifri's slide deck that was presented at the December 7 leadership check-in. Cases are starting to climb in our area and throughout the Commonwealth. Hospitalizations are increasing, and nationally there are widespread high rates of COVID-19. 
Department Annual Reviews: Lessons Learned
David S. Wilkes, MD │ Dean
The department annual reviews surfaced some techniques that helped faculty and staff continue to carry out their work, fostered community, or otherwise were silver linings in a difficult period. This meeting highlights steps taken by the Department of Surgery and the Center for Public Health Genomics. 
Janet Heinzmann, administrator for Surgery, discussed the department's response to concerns about losing its critical interpersonal interactions in recruiting and how to bolster its minimal social media presence. With only weeks left in the resident recruiting season, the department contracted with Bantam to help improve its social media presence. 
Bantam helped the department improve its landing page through simplification, organization, prioritization of content, and enhancement of visual content. For the first time, Surgery capitalized on the benefits of social media advertising, which requires strong internal engagement and a plan for handling social media communications. Engaged viewers were redirected to the residency web pages for additional information, and those who applied were sent an email thanking them for considering UVA. The department is exploring additional options for email marketing to students, residents, alumni, and employees. 
Surgery shared some key lessons: 
External help is needed to help access niche audiences, such as the residency pool.

 

Due to limitations with the department and the University, professional help is needed to program and implement. Internal engagement within the department is required to manage social media response.
There are ways to work within the existing UVA brand standards to improve while maintaining the brand image.
Social media offers abundant opportunities for internal communication, reaching alumni, fund raising, and more.
Stephen Rich, PhD, director of the Center for Public Health Genomics, related the unexpected benefits of converting its initially planned, in-person Emerging Scholars in Genomics Symposium to a semester-long seminar in Genome Sciences, becoming an "Emerging Scholars" virtual symposium series. The symposium was organized to highlight research in the areas of genetics and genomics from high-quality labs around the nation to allow UVA trainees an opportunity to network with future peers and to provide speakers with opportunities that might help them when they enter the job market. 
Senior post-docs from high-quality labs throughout the nation gave lectures to almost 100 people, which is double the usual in-person numbers. Each Emerging Scholar had a chance to meet with faculty and other post-docs and graduate students. 
Janina Jeff, PhD, Senior Bioinformatics Scientist at Illumina was the keynote speaker. She spoke about her career path as an African-American woman in a field dominated primarily by white men. The response was much better than anticipated. A large number of people from each of the participant labs attended the seminars – the entire population of a high-quality lab saw that UVA supports research in the genetic and genome sciences. Our work has seen by leading researchers at institutions such as Stanford, Cornel, USC, the University of Washington, and other highly regarded research universities. 
The next meeting will be Tuesday, January 12, 2021, via Zoom. 
Filed Under: Clinical, Education, Faculty, Operations, Research