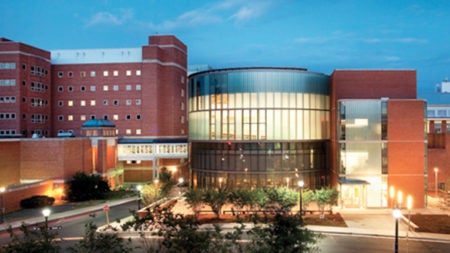 The School of Medicine's Medical Advisory Committee (MAC) met on Dec. 11, 2018, 4-5 p.m., in the Medical Education Building's Learning Studio. Here are highlights from that meeting:
Opening Comments
David S. Wilkes, MD
Dean
Dean Wilkes gave enthusiastic congratulations to Drs. James Nataro, Douglas DeSimone, Wladek Minor, and Lukas Tamm. The Latin American Congress of Microbiology held a special symposium in honor of Dr. Nataro for his work battling infectious diseases, such as E. coli and Shigella, in Latin America. Drs. DeSimone, Minor, and Tamm were elected as Fellows by the American Association for the Advancement of Science (AAAS). Each year the AAAS elects members whose "efforts on behalf of the advancement of science or its applications are scientifically or socially distinguished."
December Health System Board Update
A. Bobby Chhabra, MD
Chair of Orthopaedic Surgery
Dr. Chhabra reviewed the Health System's FY19 Scorecard and provided a summary of the FY19 first quarter financial report.
The Health System Development (HSD) report showed that $67.7 million was brought in, exceeding the goal of $62 million. The grants and gifts include $17.6 million in investigator-initiated philanthropic grants, some of which were the Bill and Melinda Gate Foundation ($9.4 million — Houpt, Moore, Petri, Nataro), the Susan G. Komen Breast Cancer Foundation ($450,000 — Rutkowski), and the American Heart Association ($706,511 — Bilchick, Sun, McNamara). HSD is well on its way toward its FY19 goal of $100 million, with commitments that include $7.74 million for cancer research pilot projects, $1.62 million for clinical trials space, $1.25 million for biomedical research, and $2 million for a neurology fellowship and a general medicine professorship.
Getting Ready for Workday
Julie Bird
UFirst Change Management Co-Lead
Ms. Bird reviewed key dates related to the January 7, 2019, launch of Workday, UVA's new, cloud-based human resource and payroll system. Duo and the latest version of Internet Explorer or Google Chrome are required to access Workday.
SOM monthly payrolls will be paid from the legacy system on December 31 and from Workday on February 1.
SOM bi-weekly payrolls will be paid from the legacy system on December 28 and from Workday on January 11.
January 4 is the last day for time/absence entry and approval for the 12/14/18-1/6/19 time period. Those working that weekend will estimate their time for January 5 and 6 and, if necessary, make a correction the following time period.
W-2s for 2018 will be available through the legacy system.
If you have questions:
SOM HR Business Partners:

Sally Jackson
Stephanie McKenzie
Lisa Mullins
Thea (Nicole) Trice
Please see the Workday website, workday.hr.virginia.edu.
Highlighting New Faculty
Jonathan Kipnis, PhD
Chair of Neuroscience
Dr. Chia-Yi (Alex) Kuan, MD, PhD, Professor of Neuroscience, received his MD from National Taiwan University (1989) and his PhD from Yale (1997). He is currently PI on three R01s and one R21. Dr. Kuan's research interests are neonatal brain injury, stroke, and brain energetics.
Dr. Ukpong Eyo, PhD, Assistant Professor of Neuroscience, received his PhD (2012) from the University of Iowa. He did his postdoctoral research at Rutgers University and the Mayo Clinic, investigating microglial-neuronal physical interactions especially in the hyperactive brain using real-time two photon imaging. He has published numerous articles, including eleven as first author. His research is concentrated on the role of microglia in epilepsy and neurodevelopmental disorders.
The next meeting will be Tuesday, January 8, 2018, in the BIMS Classroom.
Filed Under: Clinical, Faculty, Operations, Research