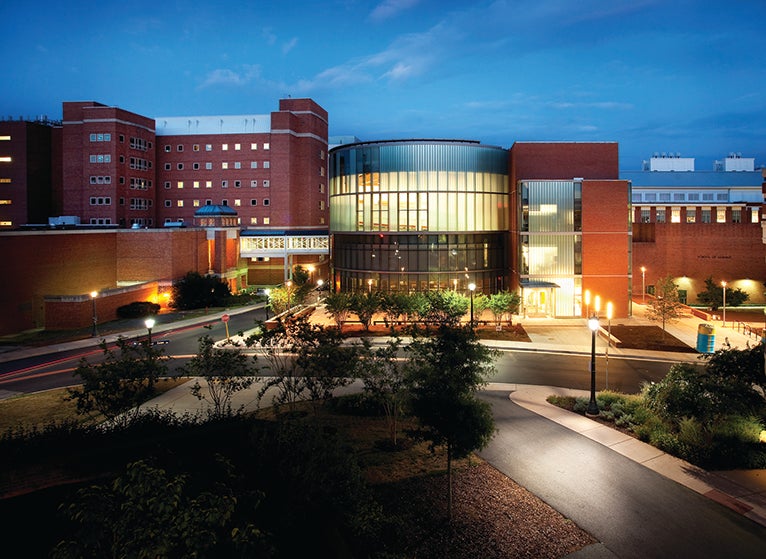 The School of Medicine's Medical Advisory Committee (MAC) met on December 10, 2019, 4-5 p.m., in the Medical Education Building learning studio. Here are highlights from that meeting:
Opening Comments
David S. Wilkes, MD, Dean
The 2019-2020 Best Doctors in America list included 233 UVA physicians — one quarter of our faculty! This is our largest group ever and is especially noteworthy when considering that only 4% of physicians nationally are on the list. Congratulations and thanks to our hard-working physicians. 
In other recognition, the UVA Medical Center received two national awards for quality heart attack care — the American Heart Association's Lifeline Gold NSTEMI Award and the American College of Cardiology's MI Registry Platinum Performance Achievement Award. The American Brain Foundation established the Ted M. Burns Humanism in Neurology Award in recognition of Dr. Burns' many, many contributions. 
John Mugler, PhD, Professor of Radiology and Medical Imaging and Biomedical Engineering, was inducted as a Fellow of the National Academy of Inventors, which is the highest professional distinction accorded solely to academic inventors. Congratulations to Jonathan Kipnis, PhD, Edward Perez-Reyes, PhD, and Kodi Ravichandran, PhD, for their inclusion on the Web of Science Group's 2019 list of Highly Cited Researchers. And Jaideep Kapur, PhD, director of the UVA BRAIN Institute, was first author on "Randomized Trial of Three Anticonvulsant Medications for Status Epilepticus," published in The New England Journal of Medicine in November. 
Dean Wilkes attended the recent White House Summit of the Joint Committee on the Research Environment. Four key points were highlighted: 
Transparency. When studies are published, scientists need to have access to the data and demonstrate that it is reproducible. Currently, 80% of published results cannot be replicated.

 

Research integrity. Intellectual property must be secured and protected.

 

Workload. Approximately 42% of academic time is spent on administrative burdens. What are the causes, and how can it be reduced?

 

Coordination among federal agencies. A lot of the administrative burden comes from lack of coordination among various agencies, resulting in duplicated effort.

 
Karen Johnston, MD, MSc, iTHRIV PI, Assoc. VP for Clinical & Translational Research
Johanna Loomba, iTHRIV Research Concierge Manager & Informatics Core Manager iTHRIV Portal and TriNetX Discovery Tool
Dr. Johnston and Ms. Loomba introduced the iTHRIV Portal and the TriNetX discovery tool. Over 300 resources are in the iTHRIV research portal, and the iTHRIV research community is continually adding more. 
TriNetX is a cohort exploration tool that can be used to conduct feasibility assessments and refine protocol design for full-board studies or chart reviews. The system is populated weekly with EPIC data (going back to Sept. 2010). UVA cancer registry data will be integrated into iTHRIV tools in the near future. Right now, institutions can access only their own data, but new iTHRIV applications are coming in 2020 that will support population counts across 60+ sites. 
More information is available to your faculty and residents through individual consults (request through https://portal.ithriv.org) and departmental trainings (contact Johanna to schedule: jjl4d@virginia.edu). 
Lukas Tamm, PhD, Chair of Molecular Physiology and Biological Physics
StandPoint Action Plan
The department's survey response rate surged from 23% in 2015 to 85% in 2018. While there was satisfaction in many spheres, three areas of opportunity surfaced. 
Satisfaction with faculty diversity and inclusion. The department developed a strategic plan for successfully hiring, retaining, and supporting the career development of women and minority faculty members. The number of tenure and tenure-eligible faculty members has increased from one to three in the two years since Dr. Tamm has been department chair.

 

Satisfaction on the ability to execute the departmental mission. Specifically, this related to the frustration of having the 17 members of the faculty located in four buildings. The faculty — including those with secondary appointments — have begun monthly research meetings that have already resulted in new collaborations and new grant ideas.

 

Satisfaction with transparency of finances. After learning that several faculty members had limited understanding of what it means to run a department with a sound fiscal plan, Dr. Tamm devoted a faculty meeting to explaining department finances, reviewing the basic science funding model, and discussing scenarios that demonstrated the impact of different percentages of faculty salary coverage. These financial discussions will be ongoing.

 
A. Bobby Chhabra, MD, Chair of Orthopaedics
Health System Board Update 
Dr. K. Craig Kent, MD, was announced as the Executive Vice President for Health Affairs, effective February 1, 2020.

 

The board received an update on billings and collections. The new financial assistance program is being implemented, the Community Advisory Council has been established and is meeting, and improvements have been made in the Revenue Cycle process.
The health system dashboard was reviewed, with first quarter performance solid.
Amy Karr, Senior Associate Vice President for Health System Development, provided the board with an update on the health system campaign. Of the $1 billion goal, $400 million has already been committed. The largest gift ever to the School of Nursing will be announced shortly.
Thomas Loughran, MD, gave the board an update on the UVA Cancer Center. The center's goal is to obtain Comprehensive designation at the next competitive renewal in 2021. The center's External Advisory Board identified needs in population research, strengthening community outreach and engagement, and precision medicine.
The long-range financial plan was presented to the board.
New Business
Anne Kromkowski, Associate Dean for Administration, and Ellen Beverly, SOM Senior HR Business Partner, provided an update on flu vaccination compliance. The deadline for receiving a vaccination or obtaining an approved exemption was Sunday, December 1. Department chairs and administrators have received instructions for next steps to address faculty and staff who are non-compliant. 
The next meeting will be Tuesday, January 14, 2020, in the BIMS Classroom. 
Filed Under: Clinical, Faculty, Featured, Operations, Research