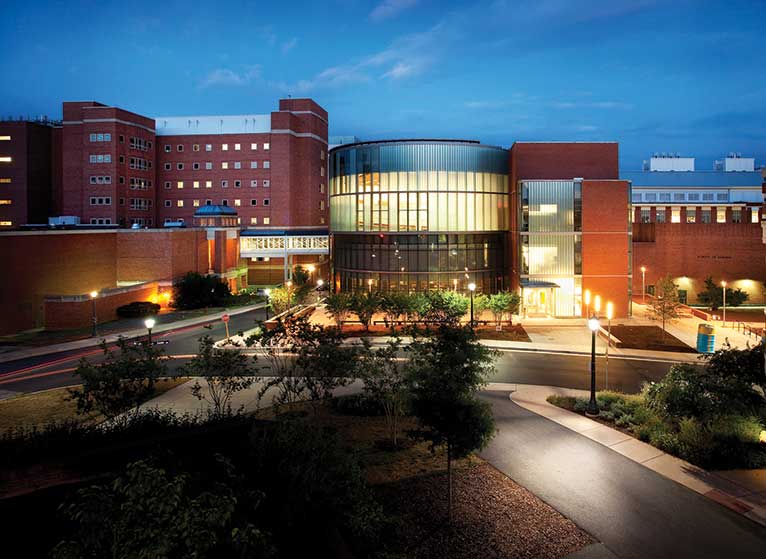 The School of Medicine's Medical Advisory Committee (MAC) met on August 13, 2019, 4-5 p.m., in the Biomedical Sciences classroom. Here are highlights from that meeting:
Opening Comments from the Dean
David S. Wilkes, MD
Dean Wilkes announced Dr. Kirsten Greene as the new chair of the Department of Urology, as of October 1. He thanked Dr. Raymond Costabile for his years of service. 
Barringer Hall will be renamed in honor of UVA alumnus Dr. Francis Collins, Director of the National Institutes of Health. 
In July, UVA Health was named the #1 Hospital in Virginia for the fourth consecutive year by U.S. News and World Report. Dean Wilkes reviewed the top 3 specialties, noting that Cancer jumped 14 places. This type of national recognition is a testament to the quality of our work. In June, U.S. News listed 8 UVA Children's specialties in the Top 50 for Best Children's Hospitals. This is up from 6 specialties last year. 
Josyf Mychaleckyj, PhD, has been appointed Assistant Dean for Biomedical Data Sciences Research. He will be instrumental in helping the School of Medicine manage big data sets. 
Other accolades include Dr. Cameron Webb (appointed to Virginia's Board of Medical Assistance Services and named to the Top Healthcare Professionals Under 40 list), Dr. Robert O'Connor (2019 Award for Outstanding Contribution to Emergency Medical Services), Dr. Catherine Casey (2019 Family Physician of the Year), Dr. Allison Martin (2019 Hilary Sanfey Outstanding Resident Award), Dr. Jose Oberholzer (2019 Meritorious Service Award), the 12 students who were awarded the 2019 Robert R. Wagner Fellowship, and Dr. Karen Ballen and the Stem Cell Transplant team for completing their 500th transplant. 
UVA has been working on a clinically integrated children's network. Dr. James Nataro announced that, shortly before this meeting, the network — a partnership between UVA and Children's Hospital of The King's Daughters — went live on Epic. 
Entering Class of 2023
Randolph J. Canterbury, MD | Senior Associate Dean for Education
Dr. Canterbury discussed the incoming Class of 2023. This year, the School of Medicine experienced two challenges it had not previously encountered. 
This is the first class whose students had the option to self-select to spend their third and fourth years at Inova in Northern Virginia. We did not know how this would affect the application process.

 

Due to a lawsuit against the Association of American Medical Colleges (AAMC), medical schools will no longer receive a joint acceptances report. This report allowed medical schools to see where else a student had been accepted and it assisted in our predictions on offers and estimation of class size.
Despite these challenges, the demographics of the 156 students of the Class of 2023 look similar to the high quality we've seen over the past decade.
Pager Replacement
Michael A. Williams, MD | Chief Medical Information Officer
UVA Health will be replacing approximately 2,800 pagers. The current system is more than 25 years old and at risk of failure. The new system, Vocera, will offer more flexibility and security. Vocera is a wi-fi and cellular-enabled communications software suite usable via a smartphone app or a hands-free badge. The process is happening now through November 30. 
To access support resources, guides, and details, just type "pagers/" in any on-Grounds web browser or email entcommproject@hscmail.mcc.virginia.edu 
Foreign Influence
Margaret A. Shupnik, PhD | Senior Associate Dean for Research
Dr. Shupnik discussed the recent guidance from the National Institutes of Health (NIH) regarding foreign influence on research. Institutions across the country have been audited, fined, or had grants taken away. A significant reason for these actions was investigators' failure to disclose that they had foreign research activities. 
Every investigator who receives funding from any government agency is responsible for ensuring all "foreign entanglements" or foreign activities are reported, including: funded or non-funded international affiliations, activities, or appointments; foreign sources of support; if a significant part of a project is performed abroad; and/or the positions and affiliations of journal co-authors. 
Beginning this academic year, UVA schools will require reporting of foreign affiliations in the financial disclosure process. 
Each individual is responsible for filling out their own forms in this process and disclosing their own financial information or foreign activities. 
UVA Public Voices Fellowship
Susan M. Pollart, MD | Senior Associate Dean for Faculty Affairs & Faculty Development
UVA is accepting applications for the Public Voices Fellowship, a year-long fellowship that provides a cohort of 20 thought-leaders with extraordinary support, leadership skills, and knowledge. The goal of this fellowship is to accelerate the ideas and public impact of faculty whose voices are underrepresented in the public sphere. This is part of a national initiative to change who writes history. 
More information can be found here. 
The next meeting will be Tuesday, September 10, 2019, in the MEB Learning Studio.