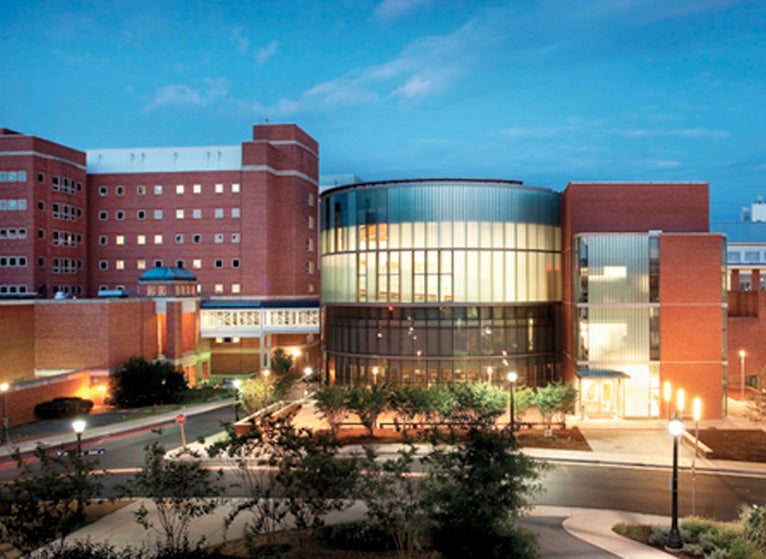 The School of Medicine's Medical Advisory Committee (MAC) met on April 9, 2019, 4-5 p.m., in Pinn Hall, 2ABC. Here are highlights from that meeting:
Randolph J. Canterbury, MD
Senior Associate Dean for Education
Opening Comments 
Dr. Canterbury chaired the meeting in the absence of Dean Wilkes. He congratulated Medical Center CEO, Pamela Sutton-Wallace, for being recognized by Modern Healthcare as one of 2019's Top 25 Women Leaders. 
Mary Kate Worden, PhD, received the 2019 All-University Teaching Award, the highest teaching honor the University bestows. Dr. Worden, a neuroscientist, is Associate Professor of Medical Education and Director of Curriculum Integration and Development. 
Kodi Ravichandran, PhD, Professor and Chair of Microbiology, Immunology, and Cancer Biology, was awarded an Advanced Grant by the European Research Council. This is a pinnacle grant for European scientists, and Dr. Ravichandran received it on his first attempt. His grant provides €2.5M over five years. 
George Christ, PhD
Professor of BME and Mary Muilenburg Stamp Professor of Orthopaedic Research Director, Basic & Translational Research in Orthopaedic Surgery
Regenerative and Rehabilitative Medicine: Ongoing Work and Research Opportunities 
Dr. Christ gave an overview of the regenerative and rehabilitative medicine program at UVA. The group is developing technologies to restore muscle, nerve, vessel, and bone functions. The NIH and DoD have invested heavily in regenerative medicine ($2.9B between 2012-2014) to discover ways in which service members with traumatic battlefield injuries can have function restored to improve their quality of life. The work also has benefit for civilian traumatic injuries such as auto and other equipment-related accidents, or injuries (gunshot wounds), as well as all individuals with a host of congenital anomalies (e.g., cleft lip/palette) or other acquired conditions/disorders (e.g., tissue loss due to inflammation, infection or tumor resection). 
Due in large part to the complexities of developing regenerative technologies, as well as the lack of biomanufacturing capabilities, infrastructure, and expertise (including a trained workforce), long timelines are required to get regenerative technologies to the clinic. Federal funding is available for biomanufacturing infrastructure, scale-up, reproducibility, and establishing collaborative networks and shared resources to speed this development process. There is a large and growing bioeconomy in the academic, industrial, government, and nonprofit sectors. This is a nascent field and UVA, with the SIF-funded Center for Advanced Biomanufacturing, is a leader. The center is a joint venture of SEAS and SOM. Dr. Christ invited investigators to explore what the center offers, including its equipment, expertise and capability for biomanufacturing of a broad range of cell, tissues, and eventually, organs. 
Dr. Christ pointed out that research in regenerative and rehabilitative medicine provides funding opportunities that investigators may not normally consider. The research plan is broadly defined and has room for basic, translational, and clinical research. 
William Petri, MD
Department of Medicine Vice Chair for Research
Department of Medicine Research Highlights 
Dr. Petri presented several research vignettes highlighting research in the Department of Medicine. 
Andrew Wolf, MD, chaired the American Cancer Society's 2018 committee that updated the guidelines for colorectal screening in adults. The trend is an increase in younger people aged 20-49 being diagnosed with colorectal cancer and a decrease among older people aged 50+. A measure of the effectiveness of screening is the life years gained. The results indicate that in those screened from age 45/50 to 75, 400 years of life are saved per 1,000 people screened. Many screening approaches are effective, and individualizing the approach based on the patient's preference may increase adherence to screening. 
Francine Garrett-Bakelman, MD, PhD, is applying epigenetics to acute myeloid leukemia (AML), one of the more difficult conditions to treat. Her hypothesis is that epigenetic changes predispose AML patients to relapse and poor outcomes. Thus far, her work indicates that epigenetics may be more important than genetics in determining AML outcomes and relapses, and that therapy targeted at epigenetic modifiers may offer a new therapeutic approach. 
Zhenhuan Zhao, PhD, is studying the nature of T cell epitopes in lupus antigens and how antibodies to these antigens precede the onset of lupus. He has found that lupus autoantibody production is dependent on T cells and that they are likely to be generated in response to commensal bacteria in humans. 
Commonly referred to as "alpha gal," a disaccharide present in ticks and four-legged mammals but not in humans, IgE anti-galactose-α-1,3-galactose is a cause of red meat allergy. Jeffrey Wilson, MD, PhD, is exploring the connection to individuals with alpha gal and atherosclerosis. He measured the disaccharide in 118 patients undergoing coronary artery catheterization and observed that individuals with alpha gal tended to have coronary artery plaques that were larger than in individuals without the allergy. 
Amy Mathers, MD, is investigating interventions to prevent the transmission of antimicrobial resistant (AMR) bacteria in the Intensive Care Unit. Her hypothesis is that AMR bacteria are acquired by the aerosols generated by flushing "hoppers" in the ICU. These waste disposal systems are potential reservoirs for AMR bacteria as they are used to dispose of urine and stool of patients who are on antibiotics. Covering the hoppers with lids was associated with a reduction in AMR transmission. This intervention partially coincided with a change in the cleaning disinfectant used in the hospital. However, Dr. Mathers' work raises the important question of the role of environmental transmission of AMR. 
Susan M. Pollart, MD
Senior Associate Dean for Faculty Affairs and Faculty Development
Faculty Annual Review 
Dr. Pollart started by saying that chairs are doing a good job with annual reviews – 100% of the faculty had reviews, and from what was submitted, it is evident that the discussions were more encompassing than just the numbers. She then outlined what is new for the coming year. 
Track specific forms (which may be edited) are here. It is important that position activities align with the track description. If they do not, it presents challenges for both the P&T committees and for the external referees who are writing letters to support advancement.

 

The time away table has changed.
List prior year goals and progress towards completion. Discuss and document when goals are not met, including plans for improvement and the consequences if there is no improvement. If goals change mid-year, document this.
In Part II, "Comments from the Chair, Mentor and Supervisor," include comments regarding discussion of academic advancement for all assistant/associate professors, performance relative to expectations, and, where performance is not meeting expectations, outline a performance improvement plan and plans for quarterly follow up.
The Provost P&T Policy requires "strong indications of a commitment … that will lead to sustained contributions over time and … growth in stature will continue," and external evaluations of the candidate's contributions.
James P. Nataro, MD, PhD, MBA
Chair of Pediatrics
StandPoint Action Plan 
After receiving the StandPoint data, Dr. Nataro asked the Pediatrics faculty to select two areas they wanted to work on. They selected "transparency of finances" and "participation in governance." 
Transparency of Finances 
Dr. Nataro offered an optional one-hour faculty meeting in which the department's finances were explained without jargon and in detail. The questions were insightful, and the information was well received. With this understanding, requests for "special funding" all but disappeared.

 

Faculty are able to ask the chair to see any of the department's financial information. They know each other's and the chair's salary, they know what the bottom line is, and they know where the money comes from and where it goes.
Participation in Governance 
Pediatrics now makes all major decisions at division head meetings.

 

Issues are not discussed and voted on at the same meeting. After initial discussion at the division heads meeting, the heads take the topic back to their divisions for input. The vote then is held the following month.
This allows all faculty to participate and the division heads truly represent their faculty.
Other responses 
Pediatrics formalized its mentoring program.

 

Department leadership visited the Division of Developmental Pediatrics to discuss their clinical issues.
Additional emphasis was given to programs already underway to improve clinical operations, address EPIC time, and diversity within Pediatrics.
The next meeting will be Tuesday, May 14, 2019, in the BIMS Classroom.