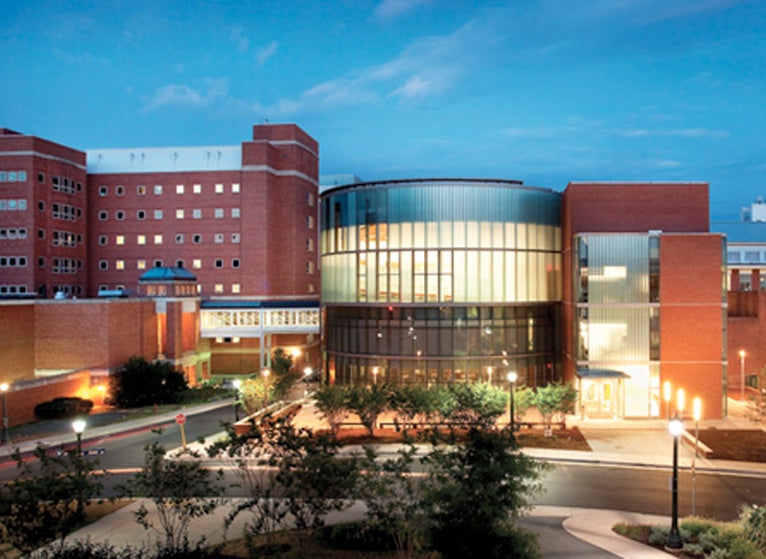 Opening Comments from the Dean
David S. Wilkes, MD

UVA School of Medicine Inova Campus: We have received formal approval from the State Council on Higher Education for Virginia to establish this campus. Thanks to Dr. Randy Canterbury for his work in shepherding the work required to earn this approval.
U.S. News & World Report Rankings: Congratulations and thank you to our faculty and staff whose sustained work has resulted in an improvement in our rankings. Primary Care moved from 24 to 21, a significant increase. Research also rose from 27 to 26. The credit goes to those who are "in the trenches" carrying out the hands-on work.
General Faculty Meeting and State of the School Address: This event will be Thursday, April 19, at 5 PM in the third-floor auditorium of the Medical Education Building. Faculty will vote on the graduating students. This will be the first time the faculty vote on the PhD and Masters candidates.
Climate Survey: The Deans Working Group, headed by Risa Goluboff, Dean of the Law School, has developed an extensive survey of 92 questions in the wake of the August 2017 events. This survey may be distributed within the next few weeks. Our clinical staff will be participating in the 2018 HS Engagement Survey that also is going out soon, and which is a priority for us.
Personal Safety and Office/Lab Security: Within recent weeks, we have had several break-ins and attempted break-ins, including one in which it appeared that the person was attempting to sabotage a PI's research. Please adhere to basic safety and security guidelines. The safety and health of our faculty and staff are of primary concern.
Update on Health Information Technology Upgrade
Rick Skinner, Chief Information & Technology Officer
Regina Verde, Chief Corporate Compliance & Privacy Officer
As background, Ms. Verde reminded us that in November 2017, the FBI informed us that a form of spyware malware had attacked one provider's personal devices, compromising Health System information as that individual connected via VPN. She described the steps taken to control and investigate the breach and to inform any individuals whose information was potentially at risk. The perpetrator has been arrested.
Mr. Skinner noted that approximately 8,000 personally owned devices are permitted to access HS IT systems. These devices must have protection before accessing the networks. An additional precaution is restricting the ability to download information in attachments, especially from web mail or Outlook email.
These network access controls will be retained as HSIT determines the next steps for users to manage email and attachments while maintaining security.
Budget Update
Kathy Peck, Chief Operating Officer
The FY19 budget was completed on April 3 and submitted for review. The Board of Visitors must give final approval. The next BOV meeting is in June.
Many people contributed to putting the budget together, and Ms. Peck stated her great appreciation for this effort.
Match Update
Susan Kirk, MD
Designated Institutional Official and Associate Dean for Graduate Medical Education
The most popular programs that the medical students matched were internal medicine (35); emergency medicine, obstetrics and gynecology, and pediatrics (each 15); and anesthesiology (13). The students are going to well-respected institutions, including Yale, Emory, Penn, Vanderbilt, UPMC, Johns Hopkins, Mass General, Wake Forest, and Chicago.
At the national level, 1,410 additional positions were offered in 2018, and 1,078 US seniors were not matched. Dr. Kirk notes that more DOs are competing for slots because of the single accreditation system and because osteopathic residencies are being eliminated.
At UVA, all 161 positions were filled through the main Match. Sixteen UVA medical students will complete all or part of their residency at UVA.
Our preliminary data indicates that we recruited fewer URM residents in 2018 (9.9%) than we did in 2017 (16.25%). The application opened two weeks after last August's demonstrations and may have been impacted by those events.
Programs that participated in a separate recruitment activity (e.g., institutional Diversity Days or institutional Second Looks) were more successful in recruiting URM residents.
Dr. Kirk expects that tracking the percentage of URM physicians, both faculty and GME trainees), will become a common program requirement in July 2018.
The next meeting will be Tuesday, May 8, 2018, in the BIMS Classroom.
Filed Under: Education, Faculty, Operations