In a healthcare environment, grime is something we strive to avoid. But in the UVA School of Medicine, GRIME is something we embrace.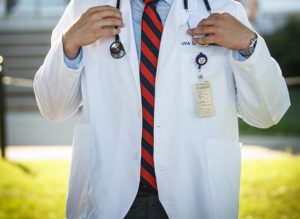 GRIME, or the Group on Research in Medical Education, is a committee of volunteers who are charged with reviewing all research proposals that include medical students as research subjects. This covers research funded both internally and externally.
GRIME provides services to medical education researchers and has seen an increase in the number of requests for review of projects this year. If you or your department are doing research that involves medical students, contacting GRIME is the first step in the review process, even before sending it to the Institutional Review Board (IRB). While the IRB looks at data collection and safety of the subject, GRIME reviews projects for methodology, risk, practicality, burden to students, and usefulness of data.
Chaired by Elizabeth Bradley, PhD, Assistant Professor and Director of Curriculum Evaluation, GRIME is made up of experts in medical education and research, medical educators, PhD educators, basic scientists, and medical students.
In addition to their review charge, GRIME is also happy to provide consultation if researchers have a germ of an idea and wish to develop it. GRIME can help formulate ideas and methodologies, or even assist in improving something on which you are already working.
Save time, contact GRIME.
To learn more about GRIME, please contact Elizabeth Bradley, PhD, Assistant Professor of Research, Director of Curriculum Evaluation, at ejb4a@virginia.edu.
Sincerely,
R.J. Canterbury, MD
Senior Associate Dean for Education