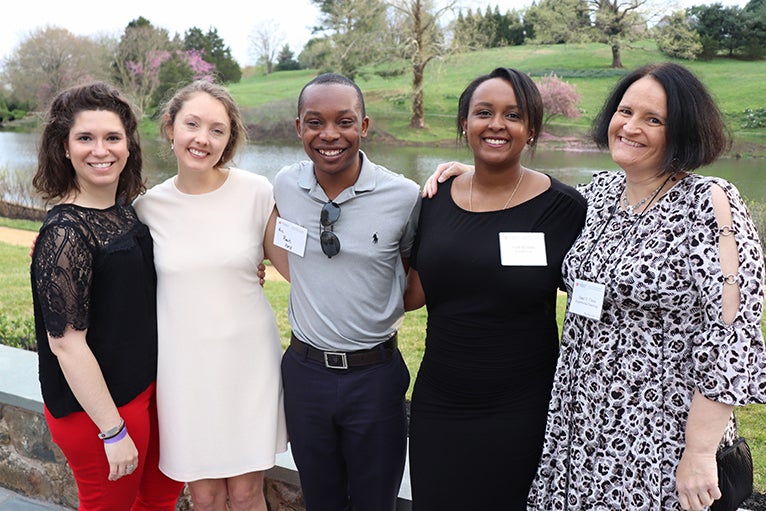 Over 225 alumni, faculty, and current trainees participated in the first-ever Biomedical Sciences (BIMS) Reunion Weekend, April 12-14. Considered a smashing success, the event drew alumni who received degrees in Biochemistry, Biophysics, Cell Biology, Experimental Pathology, Microbiology, Neuroscience, Pharmacology, and Physiology.
Reunion highlights included:
An Alumni-Trainee Networking Event | This reunion kickoff event gave more than 60 current students an opportunity to have small-group discussions with alumni from the fields of academia, government, industry, scientific writing, and more. The breadth of our alumni experience is staggering and this type of exposure showed our students the varied career paths awaiting them upon graduation. Following the networking event, alumni, faculty, and students enjoyed a welcome reception before the departments hosted dinners for their alumni.
BIMS Program Update | David Wilkes, MD, Dean, UVA School of Medicine, opened the Saturday program with an update about the BIMS program and its transition into the School of Medicine. Later, each department presented showcases featuring faculty lectures, student poster presentations, and tours.
Reception and Dinner | Alumni, faculty, and students attended a dinner at the Boar's Head Resort, where alumni awards were presented by Amy Bouton, PhD, Associate Dean of Graduate and Medical Scientist Programs — and 1985 UVA graduate! — for superlative categories such as the "earliest graduate in attendance" (1973), "alum who traveled the farthest" (Iceland!), and "father/son" and "father/daughter" graduates.
Because of the way BIMS graduate students used to enter through the Graduate School of Arts and Sciences (GSAS) and the variability in the number of years it takes to complete the PhD, there has never been a centralized effort for BIMS students to gather for a reunion. Since the BIMS program transitioned to the School of Medicine (SOM) in 2017, we now have the opportunity to establish long-term relationships as our students graduate and begin to make an impact on the scientific world.
We want to change the paradigm by bringing alumni, faculty, and students together with the goal of building and enhancing the UVA BIMS community, both on and off Grounds. When the idea of a BIMS Reunion weekend was broached, the Basic Science Chairs, departments, and graduate program office were extremely enthusiastic.
Thank you to all of our faculty, staff, students, and alumni for making this such a memorable weekend. A special thank you goes out to Barry Collins, Sarah Rothschild, and all of the UVA Medical Alumni Association team for making the event such a success.
R.J. Canterbury, MD, MS, DLFAPA
Wilford W. Spradlin Professor
Senior Associate Dean for Education
(Photos by Sarah Rothschild and Liz Taylor, courtesy of UVA Medical Alumni Association. The below images and others can be found on its Instagram account.)