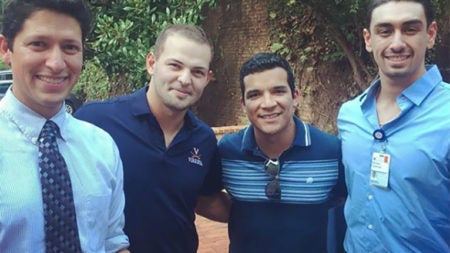 Over the holiday break I was fortunate to be able to spend time with family. That got me to thinking not just about our immediate School of Medicine family but our extended family in the Medical Alumni Association (MAA) and the Medical School Foundation (MSF).
One of the greatest gifts our alumni can offer students is to connect students with graduates and trainees. When we talk to alumni, "mentoring students" is always at the top of their list for ways they want to stay engaged and support the School of Medicine. Likewise, students report mentoring as one the greatest services the MAA/MSF provides.
At the beginning of the school year, the MAA/MSF reached out to leaders of student groups who are considered underrepresented in medicine (URM), such as the Student National Medical Association (SNMA), the Latino Medical Student Association (LMSA), and qMD (the lesbian, gay, bisexual, transgender, and allies medical student organization). The main theme from these conversations was a desire for more mentorship. The student groups wanted access to mentors who understand what they are going through, not just as medical students, but as URM students. The MAA reached out to housestaff for volunteers to serve as mentors.
The solution here is beautiful. It's not complicated or expensive or time consuming and yet it is proving exceptionally worthwhile. From these conversations, the MAA/MSF connected our medical students with residents for a number of events, including a meetup on the Corner for coffee and a student networking event where Hispanic and Latinx staff, faculty, and local alumni could gather on the MAA's back patio. From there, it snowballed. Out of that gathering, two more events were planned: Dr. Elisa Trowbridge, Associate Professor of Obstetrics and Gynecology, brought together students at her house to discuss items related to OB/GYN; and one of our Latino residents held a dinner right after Thanksgiving to share his experiences with students.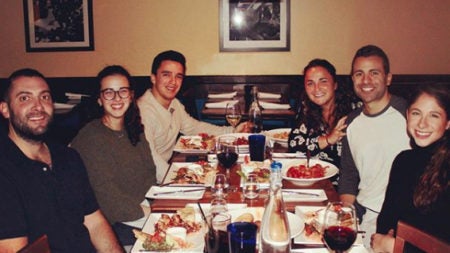 Thank you to our alumni association for fostering these connections. The way they grow organically is amazing. Hillary Barry Cocke, Associate Director of Constituent Relations at the MAA/MSF, says that she cannot recall a time when an alumnus or alumna was asked to help a student and declined to do so. Our alumni are eager to make the path easier — even if only a little — for our students. This caring manifests in opportunities like the Host Program, where students are connected with alumni while traveling the country interviewing for residency positions, and with MedConnect panel programs focusing on specific topics (e.g., "women in medicine," "the business of medicine").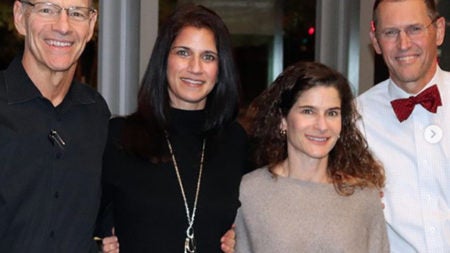 MAA/MSF also works with the Graduate Biosciences Society (GBS). In February, the MAA/MSF is co-sponsoring their first lab coat ceremony — not unlike what they we do for medical students every August — when first-year Biomedical Sciences (BIMS) students will receive white lab coats from their mentors. In April, the MAA/MSF will host the first BIMS alumni reunion. Alumni from across the graduate biosciences program are invited, providing an opportunity for them to see the research enterprise at the SOM, tour new lab spaces, and hear from current department chairs. This event will kick off with a networking session where students can meet with alumni to learn about the paths our PhD alumni took after they left Grounds.
This is just one way that alumni positively affect our students. Throughout the year there will be panels, "speed networking" meetings, focused weekends, and mixers, all opportunities for students and alumni to chat over a cup of coffee or a slice of pizza. These are high-impact experiences where our students gain real insight and knowledge from alumni and residents.
Thank you to all of our faculty who already support our students. Family means more than just blood relatives — it includes our community and we at the School of Medicine consider all of our students and alumni family. By volunteering your time and sharing your experiences, you bring us closer together.
R.J. Canterbury, MD, MS, DLFAPA
Wilford W. Spradlin Professor
Senior Associate Dean for Education