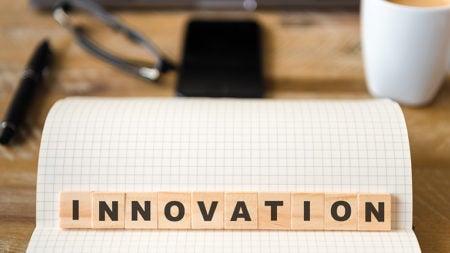 Education innovation and scholarship are significant elements within the core mission of the University of Virginia School of Medicine (SOM). For the past few years, the School has encouraged faculty who are engaged in education to apply for the Medical Education Fellowship Award to develop teaching and learning innovations in our NxGen, Biomedical Sciences (BIMS), and public health educational programs.
This award emerged from the strategic planning sessions five years ago. During those sessions, the education subcommittee recommended for the School to create free time for our faculty to innovate the curriculum. It made sense. When our faculty's time is already booked — in some cases, hour by hour — it is difficult for them to do anything outside of their assigned duties, to plan for the future, to muse about "how can we do things differently?" The School set aside funds (and time) for such considerations.
The program has been tremendously successful. It is beneficial for promotion and tenure, the curriculum, and educational excellence. When I interview potential new faculty members, many of them are excited about our emphasis on education innovation. The introduction of novel ideas keeps us on the cutting-edge of education and oftentimes has a snowball effect of (positive) unintended consequences. What is introduced today may inspire tomorrow's brilliant idea.
Below is a list of what is in the works and what's been awarded so far:
a simulation-based Advanced Cardiovascular Life Support (ACLS) curriculum for 4th-year medical students during their anesthesiology elective (Abatzis, Amato, Sheeran)
gamifying the Surgery Clerkship Curriculum to increase engagement in learning and retention of material (Martin, Gander)
hands-on radiology activities using PACS to enhance radiology learning for medical students (Sneider)
enhancing the 4th-year truncal clinical anatomy surgical elective (Walters, Moyer)
a longitudinal curriculum focused on the core principles of EPA3 (Wiencek, Parsons, Williams, Chen)
assessment tools for a simulation-based effort to improve students' bag-mask ventilation and CPR techniques (Abatzis, Kwock, McNeil, Littlewood)
a writing workshop for first-year BIMS students (Halme)
a "perioperative surgical home" (McNeil)
a program torefine students' critical thinking skills as part of the resident readiness project (Mutter, Shah, Wolf)
peer-reviewed and student-validated GI cases for a Mobile App study guide designed for medical students (Shah)
a curriculum for medical and graduate students on communicating science and medicine to the public (Atkins, Cross)
a multi-media educational resource for the Renal System (Kalantari)
editing, re-recording, and expanding the pathology PRL series for medical students (LeGallo)
I love seeing the development and implementation of these projects. We will solicit another round of proposals in August, and I hope you will apply! If you're interested, please contact Drs. Megan Bray, Maryellen Gusic, Elizabeth Bradley, or James Martindale.
R.J. Canterbury, MD, MS, DLFAPA
Wilford W. Spradlin Professor
Senior Associate Dean for Education
Filed Under: Operations