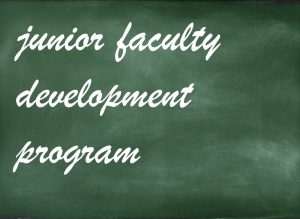 Last October the School of Medicine welcomed its first cohort into the Junior Faculty Development Program (JFDP). Modeled after successful programs at Pennsylvania State University and the University of Massachusetts, the UVA program is designed to:
provide networking, social opportunities, and peer mentoring among colleagues who are at a similar stage in their career;
promote the development and advancement of junior faculty through seminars and mentored scholarly projects; and
facilitate mentoring relationships between senior and junior faculty.
Each participant in the JFDP works on a scholarly project over course of the program and has access to a mentor who will answer questions, provide resources, and assist in their growth. Our junior faculty have devised an amazingly diverse set of topics for their projects, such as "Regulatory T Cells in Cardiac Surgery-Associated Acute Kidney Injury," "Individualizing the Care of Children with Facial and Skull Birth Defects using computer-based simulation for surgical optimization," "Quality improvement project focused toward improved care of peritoneal dialysis patients in the ER," and many others. All participants will make a presentation on their project at the end of the JFDP.
The first cohort of 12 junior faculty members come to the program from a variety of departments — medicine, neurology, anesthesiology, plastic surgery, neurosurgery, orthopaedics — and they meet twice a month for two hours. (While the current cohort does not represent every department, I do want to make it clear that this program is open to all clinical and basic science faculty.) The JFDP is organized through my office and spans a large portion of the academic school year.
This is a wonderful opportunity for our junior faculty to learn and grow and for our senior faculty to pass along vital knowledge and experience. The inaugural cohort will be finishing in the next couple of months and I look forward to their feedback. If you're interested in applying for the 2017-18 program, more information will be provided this spring. If you have questions, please contact either me or Troy Buer, PhD, Director of Faculty Development, or visit the website.
Susan M. Pollart, MD, MS
Ruth E. Murdaugh Professor of Family Medicine
Senior Associate Dean for Faculty Affairs and Faculty Development