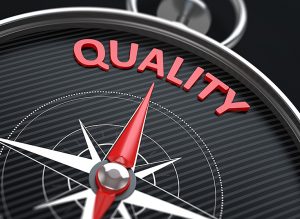 The Liaison Committee on Medical Education (LCME) checks in on us every 8 years. To prepare properly for these accreditation site visits, like many schools, we start two years in advance. Gathering materials. Performing a self-study. Building a database. If you recall the last go-round, the preparation for the site visit can be intense. But this hurry-hurry two-year scurry is not in the spirit of what the LCME wants of schools.
To avoid this two-years on, six-years off cycle, the LCME recently added an element requiring schools to perform Continuous Quality Improvement (CQI). CQI provides schools the opportunity to do more than just meet the minimum standards. It requires processes to be put in place whereby schools continuously track how they're doing on the accreditation standards and how they're working toward improving the quality of their program.
The good news is that we've been performing CQI for years, though we have not called it CQI. Our faculty have always looked to find new ways to make UVA's School of Medicine better than it was the day, week, month, or year before. The bad news is that we have not always documented it — so that is something we'll need to work on.
How will this change things for you? The answer is evolving. Right now, we're in the process of figuring out how to formalize our CQI process. What will it be? How will we implement it? These are questions we need to sort out. The LCME is not prescriptive in how we perform CQI, save that we have documentation of our processes that have measurable outcomes to improve programmatic quality and that we are monitoring them to meet accreditation standards.
Last summer we formed a steering committee and convened a few half-day retreats where we closely examined each LCME standard, looking for gaps and areas of improvement. We are now prioritizing them and determining the necessary resources to address them.
If you have any questions about CQI or the LCME standards, please contact Lesley Thomas, JD, Assistant Dean for Medical Education at llt6p@virginia.edu.
Stayed tuned for more on CQI in the months to come!
Sincerely,
R.J. Canterbury, MD
Senior Associate Dean for Education