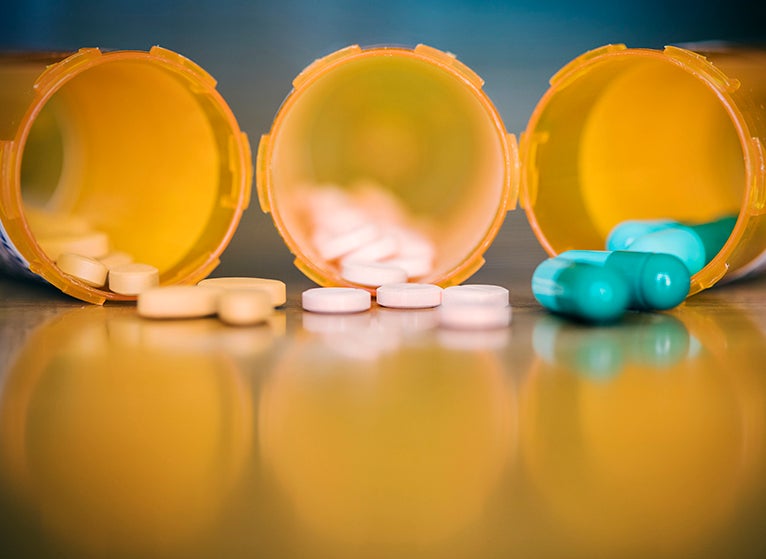 This semester the School of Medicine and colleagues across Grounds are gathering for a series of discussion groups with faculty who are interested in doing research related to substance misuse and addiction, particularly involving opioids. This is a great moment of opportunity for our School as in December 2017 the Board of Visitors approved Strategic Investment Funds (SIF) for "Reducing the Burden of Addictions in Virginia." Our goal is to use this initiative as a stepping stone for more collaborative activities across Grounds.
On January 25, 25 faculty from across the University, representing 17 different departments, institutes, and units, gathered for the first meeting.* The meeting included presentations on structure and funding opportunities; preventing opioid misuse; limiting the supply of opioids and advancing pain management; treating opioid-addicted individuals; and the legal, policy, and economic implications of the epidemic.
Discussion included:
whether this crisis was, at its foundation, about pain and its treatment;
while there is a need for basic neurological research regarding pain, the crisis is about more than physical pain;
the larger social and historic context of substance abuse; and
questions regarding how to prevent or reduce the harms associated with substance misuse and addiction, particularly to opioids.
After the 90-minute session, the group's recommendation was to:
Develop strategic teams focused on key domains of transdisciplinary research; e.g., preventing addiction, treating addiction (including practice changes), neurobiology of pain, and drug policy.
Convene more meetings with stakeholders in these and other domains of transdisciplinary research to generate cohesive research white papers for dissemination to partners and sponsors.
Distribute white papers at the Virginia Higher Education Conversation on Opioid Use and Addiction (May 1) and identify prospective partners from across the state and region.
Develop and implement additional structures to support transdisciplinary science in these domains, including but not limited to, pre-proposal planning for strategic cross-Grounds applications.
Transdisciplinary collaborations are necessary to prevent or mitigate the effects of opioid misuse and addiction in the Commonwealth of Virginia. As such, these discussions are ongoing and open to all. It is my hope that you will join the conversation. If you are interested, please contact David Driscoll, PhD, Director of Research Development in the School of Medicine, and a member of the VPR ResearchNet group that develops and participates in large transdisciplinary research projects within their schools and across Grounds.
*Participants represented the Dean's Office; ResearchNET; Psychiatry and Neurobehavioral Sciences; Systems and Information Engineering; General Medicine, Geriatrics and Palliative Care; the Institute of Law, Psychiatric and Public Policy; Government Relations; the Center for Global Health; Center for Public Health Policy; Anesthesiology; the Brain Institute; the Division of Infectious Diseases and International Health; Emergency Medicine;  Anthropology; Public Policy and Economics; and Electrical and Computer Engineering.
Margaret A. Shupnik, PhD
Gerald D. Aurbach Professor of Endocrinology
Professor of Medicine
Senior Associate Dean for Research