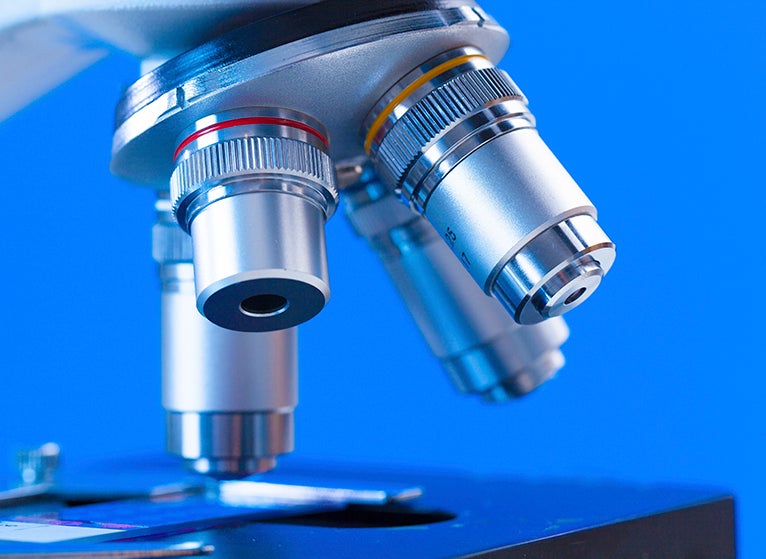 It was only a little over three months ago when we were discussing the launch of the new rapid seed-funding initiative, 3 Cavaliers. Developed by the Office of the Vice President for Research (VPR), 3 Cavaliers unites three faculty members around a new research idea and provides seed funding of $15,000 or $60,000. I am pleased to report that the first round of funding has been completed and the projects are intriguing.
There was faculty participation from all 11 of UVA's schools, the library on the academic side, and the three pan-University institutes. Funding was provided by the Strategic Investment Fund to the VPR for this project, and by the participating institutes and schools, including the School of Medicine. Overall, 114 project ideas were submitted and $4,530,000 in seed funding was awarded to 77 of those submissions. Twenty of the projects are led by School of Medicine faculty (see below) and an additional 35 have SOM faculty as participants in projects led by other schools. Each one of those projects represents a trio of multi- and cross-disciplinary faculty excellence. This is an outstanding illustration of our faculty's willingness and ability to collaborate on new ideas.
There will be a symposium (tentatively in December 2019) for faculty members to present these funded projects, and to discuss the outcomes and external funding obtained from this opportunity.
In addition to being a funding mechanism, 3 Cavaliers also maintains a faculty database (3c.virginia.edu) which anyone can use to help find research collaborators at UVA. Bookmark the web page and use it as a resource.
Thank you to all faculty who participated. I look forward to seeing the results.
Margaret A. Shupnik, PhD
Gerald D. Aurbach Professor of Endocrinology
Professor of Medicine
Senior Associate Dean for Research
SOM-led projects and associated faculty
"Brain Mechanisms of Pain Fear Acquisition and Extinction in Humans"
Jeff Liu (Neurosurgery), Per Benjamin Sederberg (Psychology), Jeff Elias (Neurosurgery)
"Modeling cerebral reperfusion injury using photoacoustic microscopy and oxygen-sensing nanoparticles"
Yashar Kalani (Neurosurgery), Song Hu (Biomedical Engineering), Shayn Peirce-Cottler (Biomedical Engineering)
"Genetically-Encoded Norepinephrine Sensors"
Jun Zhu (Pharmacology), B. Jill Venton (Chemistry), Wendy Lynch (Psychiatry and Neurobehaviorial Sciences)
"Effects of perturbation of mRNA export pathways on neuron function"
Marie-Louise Hammarskjold (Microbiology), George S. Bloom (Biology), David Rekosh (Microbiology)
"Generation and characterization of a preclinical models to study DDX3X disorder"
Sanchita Bhatnagar (Biochemistry and Molecular Genetics), Michael Wormington (Biology), Howard P. Goodkin (Neurology)
"Building an in vitro Model for Neural Tube Defects"
Christine I. Thisse (Cell Biology), Raymond E. Keller (Biology), Xiaowei Lu (Cell Biology)
"Role of innate immunity in impaired neurodevelopment during zika virus infection"
Young S. Hahn (Microbiology), Kevin A. Janes (Biomedical Engineering), Chia-Yi Kuan (Neuroscience)
"Neuromuscular pedicle for improved functional outcome of novel muscle regeneration scaffolds"
Patrick S. Cottler (Pastic Surgery), Chris Highley (Biomedical Engineering), George Joseph Christ (Biomedical Engineering)
"Extracellular life style of an intracellular pathogen"
Herve F. Agaisse (Molecular Physiology and Biological Physics), Andreas Gahlmann (Chemistry), Huiwang Ai (Microbiology)
"Development of Smart Algorithm for Cardiac Device Discrimination of Arrhythmias to Deliver Personalized Therapy"
Nishaki Mehta (Medicine), Nikolaos D. Sidiropoulos (Electrical and Computer Engineering), James Michael Mangrum (Medicine)
"Determination of Cardiac Reserve in Heart Failure using Pulse Wave Velocity Analysis"
Sula Mazimba (Medicine), John A. Hossack (Biomedical Engineering), Andrew D. Mihalek (Medicine)
"Quantitative MRI of body fat and risk of cardiometabolic diseases"
Weibin Shi (Radiology), Xiwei Tang (Statistics), Jiang He (Radiology)
"An engineered probiotic for diabetic health"
Mark Kester (Pharmacology), Steven L. Zeichner (Pediatrics), Keith Kozminski (Biology)
"Development of antibiotic resistance 'in the wild'"
Jason A. Papin (Biomedical Engineering), Lisa Colosi Peterson (Engineering), Peter M. Kasson (Molecular Physiology and Biological Physics)
"Small molecule inhibitors of the CXXC domain, an epigenetic reader of DNA methylation"
John H. Bushweller (Molecular Physiology and Biological Physics), Steven Richard Caliari (Chemical Engineering), Francine Evalina Garrett-Bakelman (Medicine)
"Genetic modification of dietary effects on nutrient distribution and metabolism"
Susanna R. Keller (Medicine), Sibylle Kranz (Kinesiology), Mete Civelek (Biomedical Engineering)
"Big data approaches for analyzing genomic intervals"
Nathan Sheffield (Public Health Sciences), Haiying Shen (Computer Science), Donald E. Brown (Systems and Information Engineering)
"Engineering Cell-adhesive Microparticle Systems to Enable in vitro Modeling of Mammalian Neural Development"
Bernard V. Thisse (Cell Biology), Kyle J. Lampe (Chemical Engineering), Rachel Letteri (Chemical Engineering)
"Predicting Functional Deficits after Volumetric Muscle Loss in the Lower Extremity"
David B. Weiss (Orthopaedic Surgery), Susan A. Saliba (Kinesiology), Silvia S. Blemker (Biomedical Engineering)
"Scalable Microfluidic Devices for Controlled Manufacturing of Micro-encapsulated Islets for Transplantation"
Melur Ramasubramanian (Engineering and Applied Sciences), Yong Wang (Surgery), Jose Oberholzer (Surgery)