"We are thrilled to honor Dr. Mathers with this award for the leadership and ingenuity she demonstrated in the face of unfathomable challenges presented by COVID-19," said Bob Creeden, Interim Executive Director of UVA LVG. "Dr. Mathers leveraged her experience with translational research and innovation activity to address the urgent need for high-impact testing solutions, and made them as widely available as possible to combat the spread of the pandemic across the state."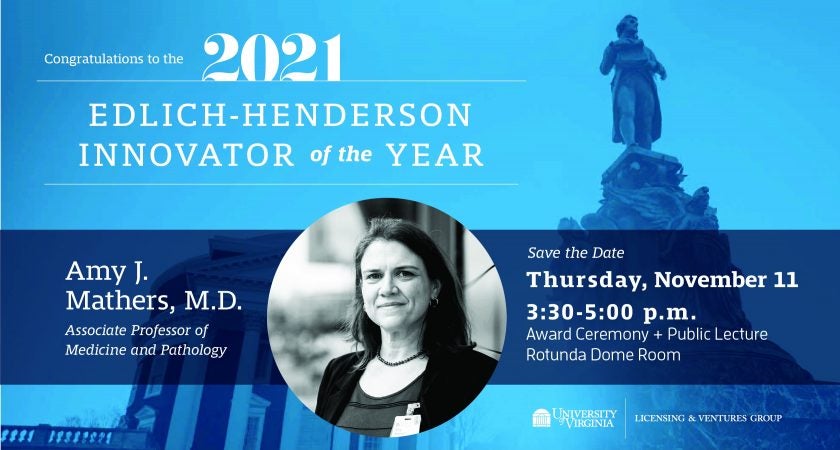 Amy Mathers, MD, associate director of clinical microbiology and associate professor of medicine and pathology at UVA, is an expert in tracking antibiotic-resistant bacteria. Her research has advanced the understanding of where antibiotic-resistant pathogens originate and how they spread in even the most sterile places like hospitals. She investigates the role that plumbing environments can play in bacteria transmission. With collaborators from the UVA School of Engineering and Applied Sciences, Dr. Mathers created the UVA Sink Lab to study the spread of drug-resistant bacteria from wastewater systems.
In spring 2020, when students were completing the school year online, Dr. Mathers redirected her Sink Lab research to design a system to test the wastewater on Grounds for specific RNA remnants of COVID-19. She worked with her team and the Department of Energy and Utilities to set up testing sites near student dormitories and found they could identify early signals of potential infection. The accuracy of their testing informed when to isolate newly infected persons before a potential outbreak, and allowed the University to safely welcome students back to Charlottesville for the fall semester.
In addition to her roles at UVA, Dr. Mathers is the Chief Medical Officer of Antimicrobial Resistance Services, Inc. (AMR Services), a company that she co-founded to commercialize the work of the UVA Sink Lab. AMR Services offers high-resolution infection control visualization tools that apply whole-genome sequencing to inform and mitigate the spread of harmful bacteria.
The UVA Licensing & Ventures Group will honor Dr. Mathers at the 2021 Innovator of the Year award ceremony on Thursday, Nov. 11, 2021. She will deliver a public lecture highlighting her research from 3:30-5 p.m. in the Dome Room of the Rotunda. All members of the UVA community are welcome to attend and celebrate her tremendous accomplishments. University policies including showing proof of vaccination and wearing a face covering will be required.
(Originally published on the University of Virginia Licensing & Ventures Group website.)