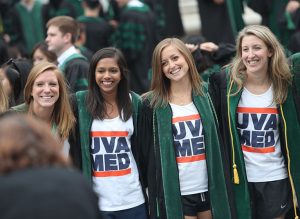 This time of year is always bittersweet. I am proud of our graduates and know they are stepping into a bright future but, after being with us for four years, I will miss them. On May 20, we graduated the 151 members of the Class of 2017. This class will be doing residencies in 31 states — Virginia being one of those states, as UVA has matched with 21 members of SMD17. That so many have decided to stay speaks highly of the quality of their educational experience, and the character of those who delivered it.
Thank you to our faculty who, for the past four years, have helped these students learn, grow, and succeed in their studies. It is only with your hard work, dedication, and commitment to the education of these future physicians that these 151 students were able to walk the Lawn.
While I can type "thank you" a million times, I believe the smiles and excitement on our students' faces in the video and photos below are a much better way of showing appreciation.
R.J. Canterbury, MD
Senior Associate Dean for Education