On Friday, August 15, the School of Medicine welcomed the 156 students of the Class of 2018 to the University of Virginia at the White Coat Ceremony and Convocation held in Old Cabell Hall.
The White Coat Ceremony.  This is an annual event presented by the UVA Medical Alumni Association (MAA) and Medical School Foundation (MSF).
Barry Collins, Executive Director, UVA MAA and MSF, Associate Dean for Medical Alumni Affairs, welcomed the new students, families and attendees. Student speaker Jonathan Pomeraniec, SMD '15, President, School of Medicine Mulholland Society, offered words of advice on service and care from the student perspective and provided many examples from the Class of 2015 on the personal meaning that their white coats carry. ("My white coat has witnessed both sorrow and happiness." "My white coat is worn with pride." "My white coat makes 3-year-olds cry.") Wallace Andrew Jr., MD '75, President, UVA Medical Alumni Association Board of Directors, explained the benefits of the association and talked about how things have changed in medicine (and how they haven't).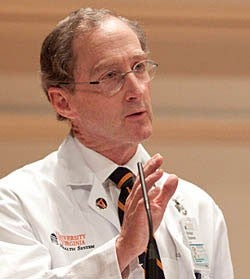 Richard Shannon, MD, Louise Nerancy Professor of Health Policy Science, Executive Vice President for Health Affairs, spoke about how the success in one's professional life "has much more to do with serendipity than it does genetics"; how success is largely about opportunity. Dr. Shannon charged the new students to "rise above your own self-interest and embrace the needs of those who have not had the same opportunity. Then, and only then, will you know what it truly means to heal. Importantly, such service is not merely the price we pay for the privilege of being physicians, it is in fact a precondition."
He continued: "You must be the agent of change in American medicine. Healthcare reform does not emanate from the Beltway. It begins the day you and all of us, as individual physicians, commit to relentlessly providing what our patients want and need, when they need it, on time, in the right amount, without defect, error or waste."
College Deans Drs. Keeley, Densmore, Peterson and Balogun helped students shrug into their crisp white coats while Randolph Canterbury, MD, Wilford W. Spradlin Professor and Senior Associate Dean for Education, called out students' names. Each white coat, a gift from the School of Medicine Class of 1965, was embroidered with the student's name. The students and teachers then recited the "Covenant for the Entering Class and Their Teachers."
More photos of the event and reception will be made available at UVAMedAlum.org.
Welcome to the University of Virginia, Class of 2018!