School of Medicine students preparing for their exams were treated to cookies and canine companionship all thanks to the 5Cs Comfort Break.
The five Cs stand for canines, cocoa, cookies, cider and contributions to the Society for the Prevention of Cruelty to Animals (SPCA) and Food Bank. This event provided a well-deserved break for the students by offering them an opportunity for warm beverages, a snack, and a moment to de-stress from exams with UVA Health System therapy dogs.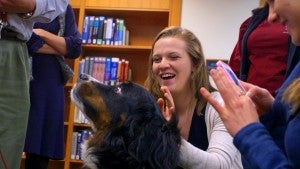 The UVA Health System Pet Therapy Program brings these amazing animals to visit many of our units in the Medical Center.   The ATMS Committee is a student-run organization that provides confidential assistance and proactive awareness and resources to medical students who may be experiencing extreme stress.
Filed Under: News, Student, Top Story, Video