At its heart, the film lays bare the realities of providing medical care in an overburdened and underfunded health care system.
The Emergency Medicine Interest Group at the University of Virginia School of Medicine would like to invite you to a free screening of
4:30-7:00 PM
December 10, 2014
3rd floor auditorium of the Medical Education Building.
This film focuses on the United States' busiest emergency department at USC Los Angeles County Hospital and follows the daily lives and work of their residents.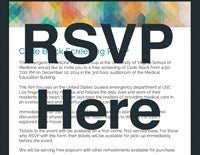 Immediately after the conclusion of the film, we also plan on having a panel discussion with physicians and public health experts to discuss the topics explored in the movie.
Tickets to the event with be available on a first-come, first-served basis. For those who RSVP with this form, their tickets will be available for pick-up immediately before the event.
We will be serving free popcorn with other refreshments available for purchase.
More aobut the movie:
More about the Screening at UVA:
The Department of Emergency Medicine, in conjunction with the EM Interest Group, is hosting a screening of the awesome new film Code Black on Wednesday, Dec 10 from 4:30p – 7:00p in the MedEd auditorium (3rd floor of the Claude Moore Medical Education Building).
Code Black is a documentary revolving around the ED at LA County, which is the busiest ED in the country and the birthplace of modern Emergency Medicine.  The film has won the Best Documentary awards at the LA Film Festival and the Hamptons International Film Festival, and has earned a 91% score on Rotten Tomatoes.  You can check out the trailer here: http://codeblackmovie.com/
The documentary itself is only 88 minutes long, however it will be followed by a panel discussion featuring Carolyn Engelhard of the Department of Public Health Sciences, and our very own Drs. Reiser & Nevel!  The event is free, and there will be snacks available for purchase.
We are opening the screening to the UVA community as a whole, including the Schools of Medicine, Nursing, & Public Health, pre-med undergraduate groups, and of course, all of you.  If you have any interest in Emergency Medicine, want to see how an urban ED operates, or just want to see an awesome new movie for free, I definitely encourage you to attend!"